Horrifying moment knifeman, 43, kicks down door before fatally stabbing daughter's father-in-law over wedding gifts row
8 November 2023, 08:16 | Updated: 8 November 2023, 08:19
Killer jailed for life after we tracked him across Birmingham following fatal knife attack
Police have released footage of the moment a man kicked his way into the house of his daughter's father-in-law before stabbing him to death.
Ahmad Al Sino, 43, confronted dentist and father-of-five Mohammed Salem Ibrahim, 55, on the doorstep of his home after a reported row about wedding gifts for their children earlier this year.
Al Sino stabbed his daughter's father-in-law four times just before 1pm on March 13 at Mr Ibrahim's home in Castle Vale, Birmingham.
The pair had reportedly fallen out in a row about gold jewellery gifted to their children.
Al Sino also attacked his daughter's husband, Aram Ibrahim, who was seriously injured but survived.
The 43-year-old fled the scene in his car but was tracked down by police after Mr Ibrahim's family called 999.
Emergency services also rushed to the scene of the attack but were unable to save Mr Ibrahim.
Read more: Police will not ban pro-Palestine protest on Armistice Day, Met chief says, as threshold for 'serious disorder' not met
Read more: Teenage boy stabbed to death outside Leeds school named as Alfie Lewis, as tributes pour in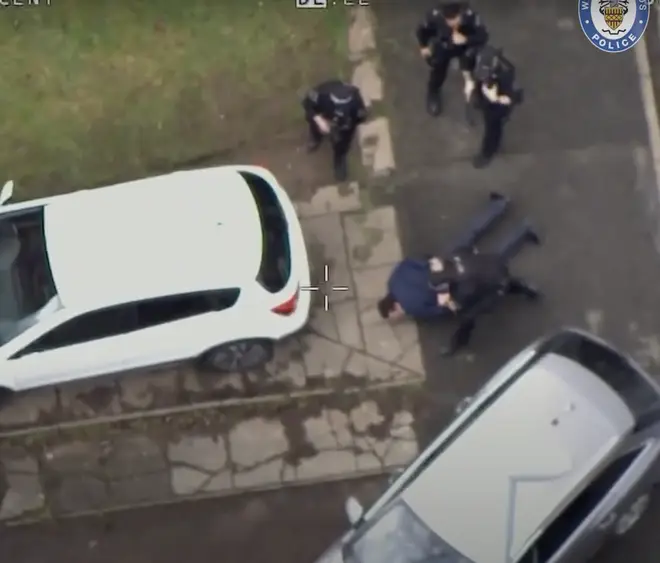 Now West Midlands Police have released shocking footage showing how they tracked down Al Sino and arrested him at gunpoint outside his Northfield home around 40 minutes after the murder.
The footage shows Al Sino driving to Mr Ibrahim's home, before pulling up outside his house, exiting the car and attempting to kick down the door to his home.
He then lunges at Mr Ibrahim before pulling out a knife.
Al Sino is then shown fleeing the scene in his car after the attack before police track him down to his Northfield home.
Police jump from a convoy of cars and Al Sino raises his hands in the air before lowering himself onto the ground when he is arrested at gunpoint.
The footage also shows officers uncover a plastic bag in his vehicle containing two knives, including one with Mr Ibrahim's blood on it.
Al Sino was sentenced to life in prison on Thursday with a minimum term of 26 years after he was found guilty of murder and attempted murder last month.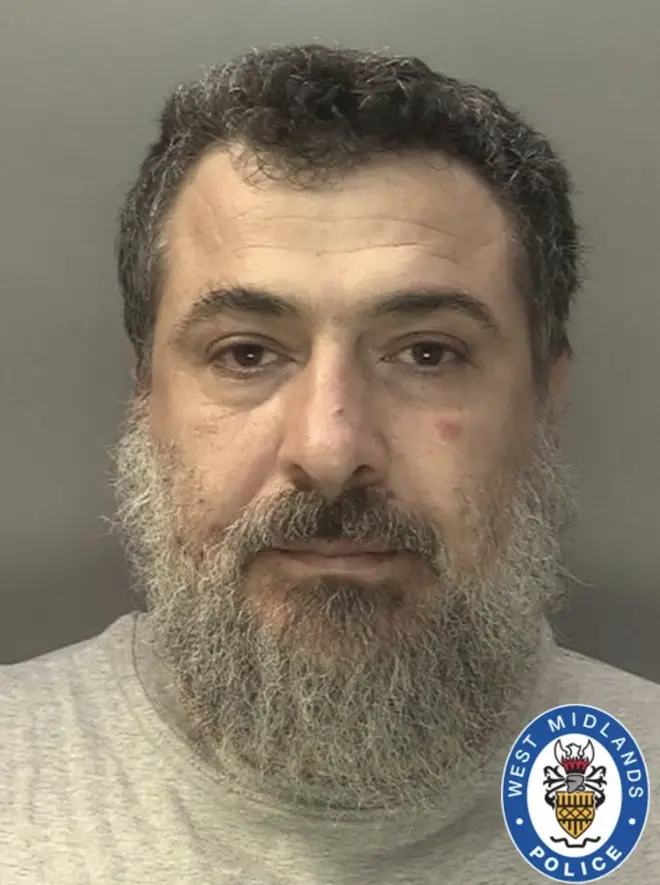 "Al Sino's decision to carry and use a knife has resulted in the loss of a father's life," Det Insp Damian Forrest, from the Homicide team, said.
"His actions, which have rightly been brought to justice, underline the irreversible impact such dangerous decisions can have.
"We know that nothing will ever bring Mr Ibrahim back but we hope this sentence will provide some comfort to his family and friends."