French fishermen halt protest off Jersey over post-Brexit fishing rights
6 May 2021, 09:27 | Updated: 6 May 2021, 16:08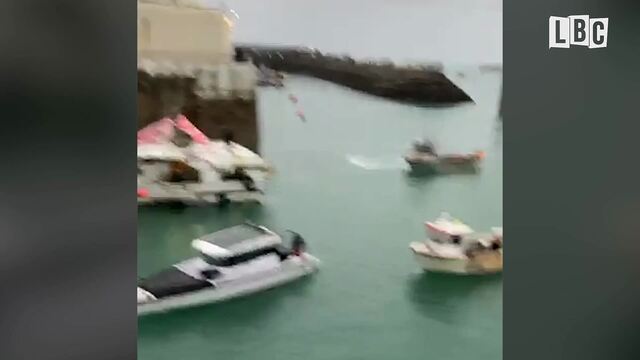 French boats protest in Jersey harbour over post-Brexit fishing rights
Dozens of French fishing boats off Jersey have halted their protest as a bitter dispute over post-Brexit fishing rights rumbles on.
Around 60 French boats arrived at the harbour of St Helier on Thursday morning, with some crews setting off flares and one filmed ramming their boat into a British vessel.
A pair of Royal Navy patrol ships continue to "monitor the situation" after hearing of plans for the demonstration, prompting France to deploy its own patrol boat, the Athos, to the island.
French authorities also deployed two police boats to the scene.
READ MORE: 'Yes the bulk of the fishing industry voted for Brexit but it's the terms we have to work under now'
The row over fishing rights escalated today with a French government minister even suggesting the country could cut off Jersey's power supply - 95% of which comes from France.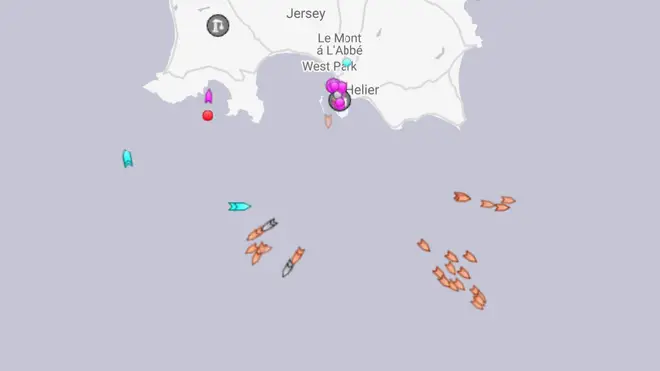 The row erupted after a French government minister suggested the country could cut off Jersey's power supply - 95% of which comes from France.
The protest was a reaction to the Jersey government's announcement that French boats would be required to obtain licences to carry on fishing in the island's waters under a trade deal with the EU which came into force last Friday.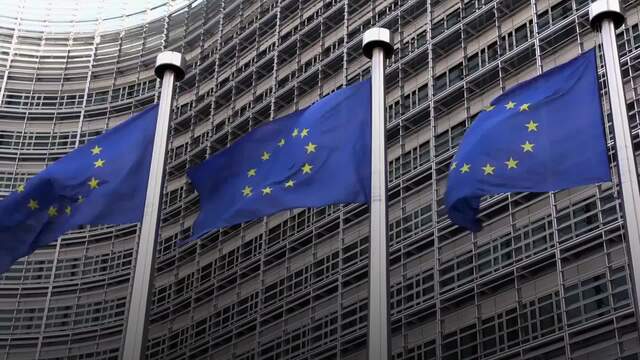 European Commission calls for 'restraint' in fisheries dispute
The EU has complained to Britain that the terms of its post-Brexit trade deal are being ignored, with French fishing boats facing "additional conditions" if they were to carry on operating - in breach of the terms of the agreement.
But Prime Minister Boris Johnson backed Chief Minister of Jersey Senator John Le Fondre and called for "the urgent need for a de-escalation in tensions and for dialogue" between the two countries.
"The prime minister underlined his unwavering support for Jersey," a Downing Street spokesperson said.
"He said that any blockade would be completely unjustified. As a precautionary measure, the UK will be sending two offshore patrol vessels to monitor the situation."
French fishing vessels arriving in Jersey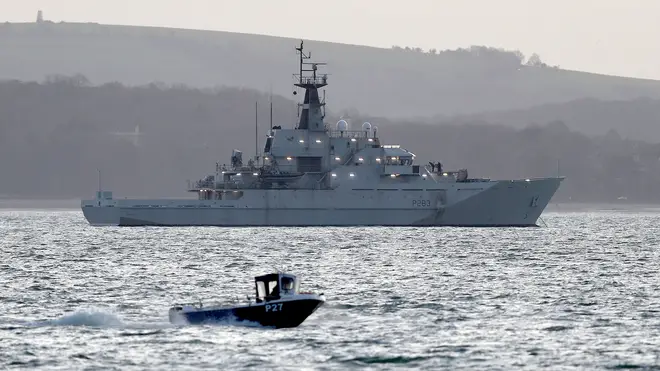 Some protesters insisted they were not seeking to blockade the port but instead protest.
"This isn't an act of war. It's an act of protest," said Dimitri Rogoff, who heads a group of Normandy fishermen.
France, which is said to provide 95% of the island's electricity, has accused the UK of dragging its feet over issuing licences to French vessels in the UK's six to 12-mile nautical mile zone.
READ MORE: 'I told you so': James O'Brien's fiery clash with an ex-Brexit Party MEP on fishing
Reports have quoted Annick Girardin, the country's maritime minister, as telling the French parliament the Government is "ready to use… retaliation measures" against Jersey, a self-governing dependency.
She added that she was "sorry it has come to this" but "we will do so if we have to".
Her comments follow the European Parliament's vote to approve the Brexit deal.
The vote itself was delayed because of arguments about the Northern Ireland Protocol, which oversees arrangements designed to stop a hard border in Ireland.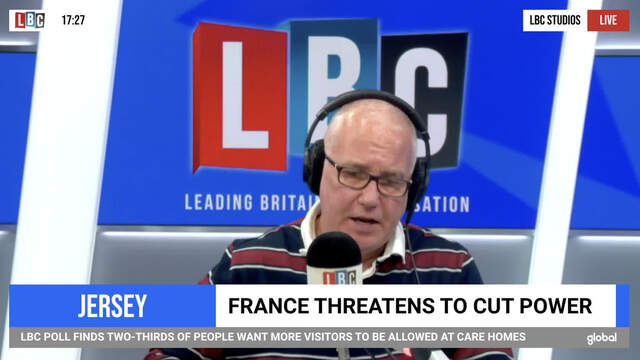 Jersey's External Relations Minister on fishing dispute with France
Despite the ongoing war of words, Boris Johnson told European business leaders on Tuesday he wants to "foster a pro-business agenda" with Brussels.
A Downing Street spokesman said: "On trade, the discussion focused on how to foster a pro-trade, pro-business agenda between the UK and EU.
"The Prime Minister welcomed the recently ratified EU-UK Trade and Co-operation Agreement and said that the UK was an open and welcoming economy, which remains international in its outlook.
"He reaffirmed his desire to see the UK and EU thrive together and noted that whilst the UK is now outside the EU, we remain a part of Europe."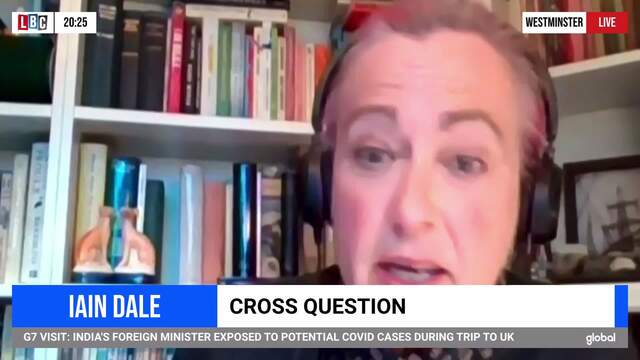 Plaid Cymru MP reacts to Royal Navy ships being sent to Jersey
The Brexit trade deal has caused a number of issues, including over extra paperwork and customs checks.
The UK and EU have also had tensions over the Northern Ireland Protocol.
Great Britain has left the Single Market for goods but Northern Ireland is still in the EU's regulatory zone.
Checks and physical inspections on agri-food goods are now applied when they arrive into Northern Ireland from Great Britain.
A legal dispute with Brussels broke out after the UK unilaterally extended grace periods covering parts of the economy including supermarket supplies and parcel deliveries to Northern Ireland.
It means post-Brexit checks have not yet been fully applied, with Edwin Poots, Northern Ireland's Agriculture Minister, saying there are estimates that 15,000 checks on goods per week could be implemented when the grace periods are over.