Get ready for a general election, new Tory boss tells party after brutal reshuffle
16 September 2021, 00:25 | Updated: 17 September 2021, 17:43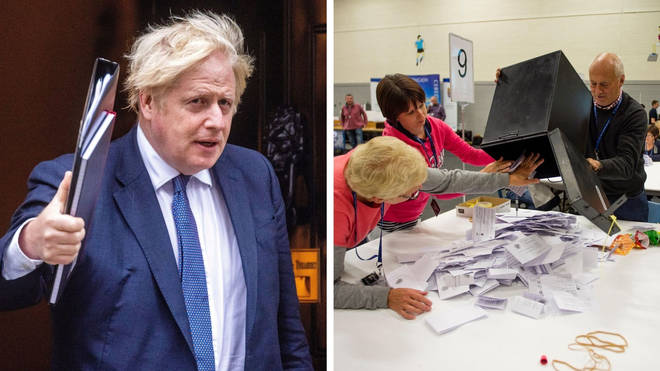 New Tory co-chairman Oliver Dowden has told the party to gear up for the next election – which could be just 20 months away, according to a report.
Mr Dowden was swapped out from his culture secretary brief to take up his new role in Boris Johnson's brutal Wednesday reshuffle.
A new election must be held by the end of 2024, but Mr Dowden is eyeing up May or June 2023, according to the Telegraph.
His message to party staff adds to growing expectations that Mr Johnson will call a vote before the current parliament must dissolve.
"You can't fatten a pig on market day. It's time to go to our offices and prepare for the next election," he told party staff, the newspaper said.
Read more: Raab DEMOTED, Williamson AXED and Truss to FOREIGN SEC in major Cabinet reshuffle
It followed a brutal day for some top Tories, with the PM looking to refresh his cabinet as the party lost ground in the polls.
Among the losers were Dominic Raab, Gavin Williamson and Robert Jenrick.
Mr Raab has been sharply criticised over his handling of the Afghanistan crisis.
He appears to have paid the price for being on holiday as Kabul fell to the Taliban.
The ex-lawyer has been shunted down to the Ministry of Justice, where he now needs to get to grips with the backlog in the justice system caused by the coronavirus pandemic.
He has been given the title of deputy prime minister in a reported bid by Boris Johnson to sweeten the demotion.
Gaffe-prone Gavin Williamson returns to the backbenches too.
His handling of his education brief was not welcomed by teachers – with the head of the UK's largest education union claiming Mr Williamson was "more Sunday league than Premier League".
In something of a surprise sacking, Robert Jenrick was culled as housing secretary.
He was frequently wheeled out by Downing Street during the pandemic to defend its Covid policies but struggled to win the argument of issues such as planning reform, LBC's Ben Kentish said.
Mr Jenrick appears to have been a lower-ranking victim of Mr Johnson's bid to freshen up his cabinet.
The winners included Liz Truss, rewarded for her time as trade secretary, who has been made foreign secretary while Michael Gove moves from managing the cabinet office to Mr Jenrick's housing brief.
Nadhim Zahawi's success as vaccine minister has also been rewarded, with his promotion to the cabinet as education secretary.