Man hurt after fire at high-rise flats near Grenfell Tower 'caused by charging e-bike'
21 June 2022, 10:03 | Updated: 21 June 2022, 16:12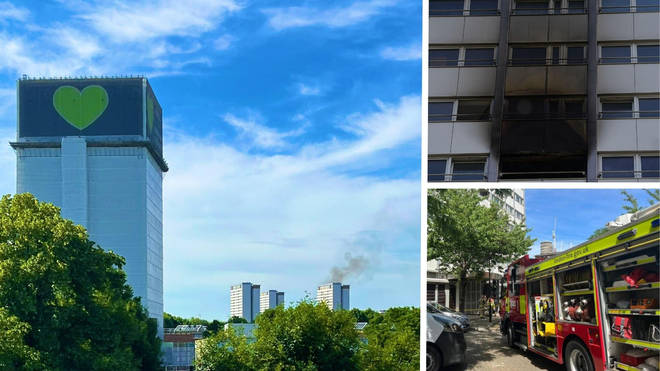 A fire that broke out on the 12th floor of a residential block near Grenfell Tower was believed to have been caused by an electric bike.
Residents were forced to flee their homes following the fire on Tuesday morning, which saw some 60 firefighters and eight fire engines in attendance.
One person has been hospitalised and two more were assessed by medics at the scene.
Liiban Shakat, of Stebbing House, Shepherd's Bush, said his visitor, whom he named as Abid Naser Mohamed, woke him up on Tuesday morning with a "black mouth" from the smoke and led him to the guest bedroom, which was engulfed in flames.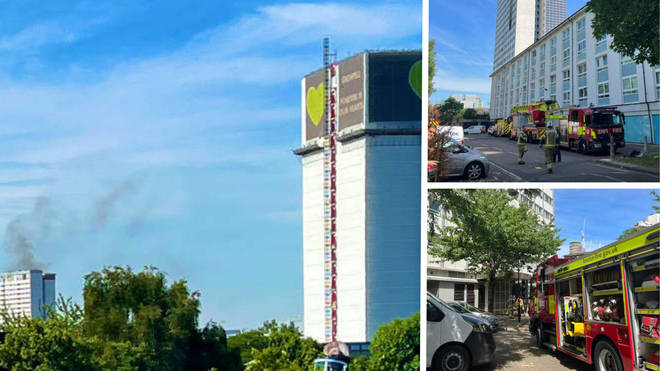 Mr Mohamed was taken to hospital suffering from smoke inhalation, Mr Shakat said.
Mr Shakat, who has lived in the building in Queensdale Crescent for over two decades, said he was woken by his friend to find the "whole room on fire".
Read more: Furious commuter blocks packed bus as rail strikes wreak havoc for Britain's workers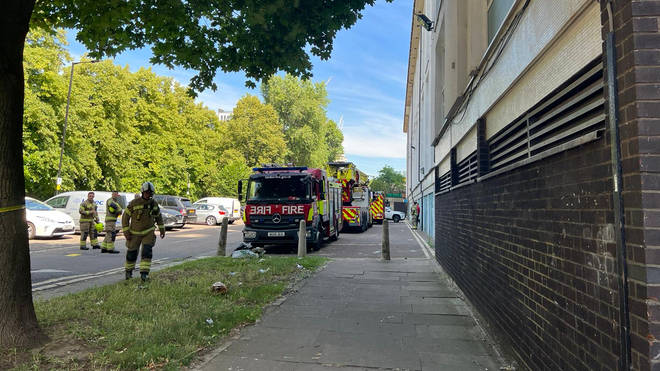 Speaking to reporters outside the building and still wearing his macawis - a traditional Somali style of pyjamas - he said: "He forces me to wake up. I follow him. I went into the room and the whole room is on fire. I ran to the sink, I got a bucket of water and I tried to discourage the fire and then it got worse."
He added: "(My friend) was in the room that caught on fire. He was in the bed. His mouth was black because he inhaled so much smoke."
Mr Shakat said no fire alarm or sprinklers had gone off and he was allegedly unable to use the lift, which automatically shuts down when there is a fire, to escape the building.
"I was in shock," he said. "I didn't know what to do."
The London Fire Brigade (LFB) said it received over 30 emergency calls about the fire and said the cause of the blaze remains unknown at this stage.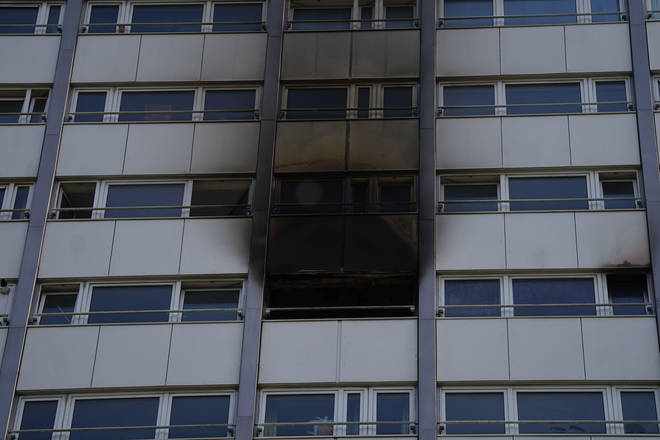 Half of a flat on the 12th floor of the building was alight, LFB said.
It said that new technology enabled a caller to send live stream videos of the incident straight into the Brigade's 999 call centre, meaning they could assess it early.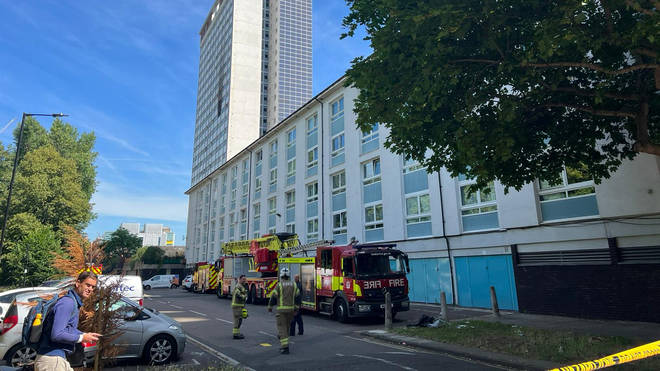 Hammersmith and Fulham Borough Labour councillor Stephen Cowan said a male individual was understood to have poured water on the electric vehicle when it caught fire causing "billowing smoke".
Mr Cowan said: "What I've been advised is that there was a fire started early in the morning by an electric scooter. They were charging an electric scooter in the flat, it caught fire, the individual had the presence of mind to pull the plug on it, and then he threw water on it.
"That caused billowing smoke. Smoke went everywhere. Automatically the fire alarms kicked in."
In West London and saw this and heard sirens

Getting closer it seems a different building than the tower is on fire

No less horrific for those affected and has made me feel physically sick

What must it be like for all those affected by #Grenfell who face such #trauma daily? pic.twitter.com/oB2yNmDC8M

— Joanna Foster (@fabtic_ltd) June 21, 2022
The building is on Queensdale Crescent, less than a mile from the remains of Grenfell Tower.
Images from the scene show just how close Tuesday's fire was to the remains of the block.
One local said they felt "physically sick" seeing how close they were.
A fire witness - Kia Zeka - told LBC News that there are sprinklers in the building but they are not working yet as they have only just been installed.
"I live on the seventh floor - I saw the fire brigade behind the building from the window and I just ran out," she said.
"No one came to the door, no one told us what as going on... when I came out there were people outside, police, and they have stopped now the fire but we can't go back inside the building yet."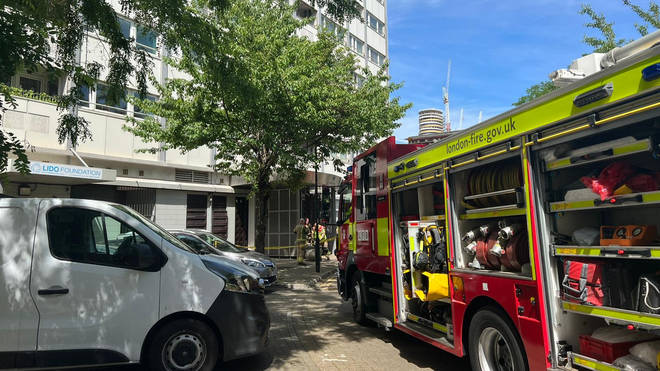 "It's quite scary. We have Grenfell just in front of us and it feels like we're going through the same thing," she added.
"15 minutes ago it was quite a big fire with smoke as well and we saw it going up," Ms Zeka explained.
"We couldn't see much else of what was going on because of the smoke."
Firefighters were also sent to a blaze at a high-rise block of flats in Manor Park, east London.
About 100 were fighting the fire on the 13th floor of the 15-storey block on Grantham Road. About 60 people left the building before firefighters arrived.
The cause of the fire is not yet known.