Harry tells Oprah: UK press is bigoted, specifically the tabloids
8 March 2021, 13:00 | Updated: 8 March 2021, 13:54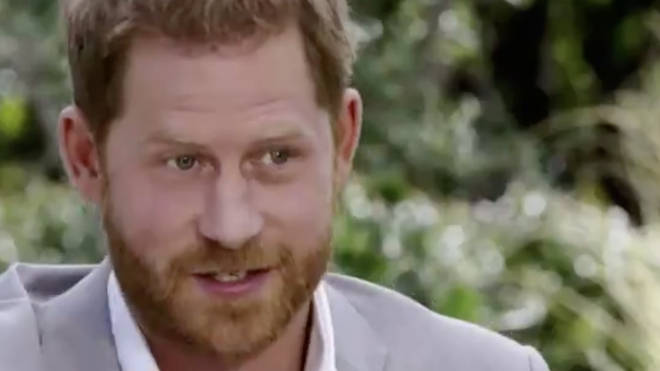 The Duke of Sussex has called the UK's tabloid press bigoted in another startling revelation in his and Meghan Markle's bombshell interview with Oprah Winfrey.
CBS This Morning has aired further footage from the interview with the Duke and Duchess of Sussex.
Asked by Oprah if the couple left the UK because of racism, Harry replied: "It was a large part of it."
READ MORE: Meghan Markle claims member of Royal Family raised 'concerns' over Archie's skin colour
READ MORE: Meghan tells Oprah: 'I just didn't want to be alive anymore'
He went on to give an account of a conversation he had at a Sentebale fundraiser.
He said someone who is "friends with a lot of the editors" urged him: "Please don't do this with the media, they will destroy your life."
Harry went on to say the whole of the UK press is racially bigoted, "specifically the tabloids," but did not identify any specific publications.
He said he was told: "You need to understand that the UK is very bigoted," to which he replied: "The UK is not bigoted, the UK press is bigoted, specifically the tabloids."
He added: "But unfortunately if the source of info is inherently corrupt or racist or biased then that filters out to the rest of society."
Harry also described the Royal Family's "relationship and that control and the fear by the UK tabloids".
"It's a really, it's a toxic environment," he said.
He said he will "always be there for him (William), and I will always be there for my family and as I've said I've tried to help them to see what has happened".
Asked if his father, the Prince of Wales, thinks it is a "toxic environment", Harry said: "I think he's had to make peace with it."
Asked why they could not make peace with it, Meghan said "this was different" due to social media, describing it as "like the wild, wild West".
She said her and Kate's experiences dealing with the press were different, saying "rude and racist are not the same".
She said: "Kate was called 'Waity Katie' waiting to marry William. While I imagine that was really hard - and I do, I can't picture what that felt like - this is not the same.
"And if a member of his family would comfortably say 'we've all had to deal with things that are rude', rude and racist are not the same.
"And equally you've also had a press team that goes on the record to defend you, especially when they know something's not true, and that didn't happen for us."
It is the latest in a string of starting revelations in the interview, that was three hours and 20 minutes long and was edited down to one hour and 25 minutes for last night's US broadcast.
In the interview, the Duke and Duchess of Sussex hit out at the institution and members of the Royal Family in a series of astonishing admissions.
They accused an un-named royal of racism, suggested the family were jealous of Meghan and revealed how she contemplated taking her own life while pregnant.