Skiing champion held back as he lunges at eco-activists trying to block race, after throwing snowballs at protesters
18 November 2023, 18:17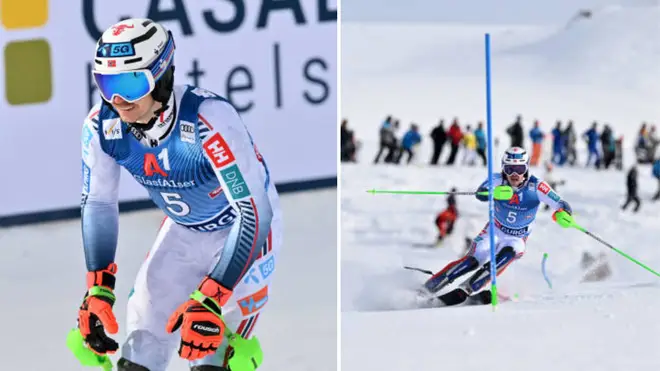 This is the moment a skiing champion had to be held back after lunging at eco-activists trying to block the course at a race in Austria.
Henrik Kristoffersen had to be held back as he moved towards environmental protesters at the Alpine Skiing World Cup in Gurgl, Austria on Saturday.
Kristoffersen, Norway's most successful slalom skier, labelled the protesters "disgusting" and "disrespectful" after they spray painted the course, sat behind the finish line and held signs - with several skiers yet to finish.
The Last Generation protesters were removed by race officials.
Kristoffersen told Norway's national broadcaster NRK: "It's so disrespectful. Say what you want, vote and try to change things from there. But don't ruin it for people. It's completely disgusting."
Read more: Uncovered: Secret eco-protesters' plot to disrupt historic Lord Mayor's Show on Armistice Day
Read more: Just Stop Oil activists smash National Gallery painting famously targeted by suffragette in 1914, as two arrested
Reacting to the world champion's comments, one pundit said: "He just loves the sport so much. He's getting upset by it.
"That's the type of skier that this young lad is," a second added. "He wears his heart on his sleeve."
Kristoffersen finished seventh in the contest.
"Not too far off the podium on a bad day, but a lot of work to be done a head of the next races in Val d'Isere,' he said on Twitter afterwards.
"Today's situation during the second round will divide a lot of opinions, but I am one to take action if I feel injustice. 'There is no doubt that the climate is a huge issue, and I don't want to oppress that. However, disruption of a cultural event will never be the time or place.
"For most of the athletes, this is their everything. At least four racers got their race ruined today, and that is injustice in my eyes. 
"Thank you for all the support I have received."
Kristoffersen and fellow competitor Filip Zubcic also threw snowballs at the protesters. Kristoffersen told NRK that the Croatian "hit one protester in the head. He was happy with that."
Last Generation is similar to Just Stop Oil or Extinction Rebellion, shutting down roads and disrupting events in Germany, Italy and Austria since 2021.