Hundreds Of Volunteers Search For Gaia Pope
18 November 2017, 18:29 | Updated: 19 November 2017, 08:13
19-year-old Gaia Pope has been missing for 11 days.
The father of missing teenager Gaia Pope has thanked the hundreds of people who joined searches looking for his daughter.
Richard Sutherland joined volunteers who had come together to search areas around Swanage on Saturday afternoon.
His 19-year-old daughter has not been seen for 11 days and clothes belonging to the teenager were found on Thursday on open land south of the Dorset town near cliffs.
Addressing members of the public who had gathered at Durlston Country Park, Mr Sutherland said: "I just want to say a massive thank you for coming out. It is very heart warming and the support gives us a lot of hope."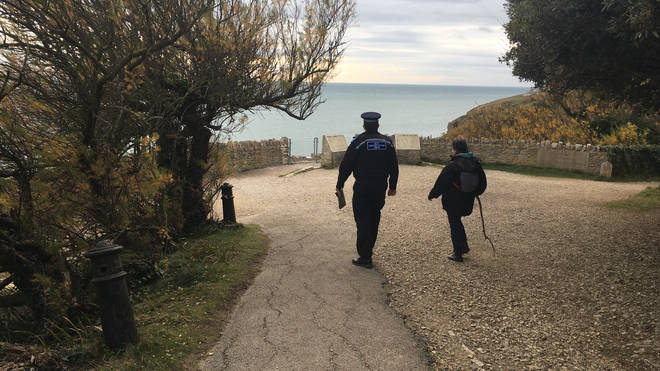 The mass searches had been organised by the Find Gaia group on Facebook and saw volunteers gather at the country park, near the main beach and to the north of the town looking for Miss Pope, who suffers from severe epilepsy.
Since she disappeared hundreds of missing person posters have been distributed across the county.
Detectives have arrested and released under investigation three people, a 71-year-old woman, a 19-year-old man and a 49-year-old man, named locally as Paul Elsey.
On Friday, Miss Pope's mother, Natasha, said she has not given up hope her daughter will be found alive - saying "I believe miracles can happen".
In a message posted on social media she said: "I believe in this community and I believe miracles can happen.
"I am holding onto hope, along with Gaia's sisters and the whole family who are my strength. Please hold on with us.
"My eternal thanks to everyone who is out there searching for my little girl. Please come out over the weekend and do what you can. Every one of you makes a difference."
Earlier, Mr Sutherland said he feared his daughter's epilepsy may have played a part in her disappearance as she had been warned by doctors that she was at risk of sudden death from the condition.
Miss Pope has not been seen since about 4pm on November 7 in Manor Gardens, Swanage.
An hour earlier she was captured on CCTV buying an ice cream inside St Michael's Garage in the town, having been driven there by a relative.
She was wearing a red checked shirt with white buttons, grey and white woven leggings and white trainers. The black jacket she had on was recovered from an address in Manor Gardens.
Forensic investigations have concluded at two properties in Manor Gardens, which are believed to be the homes of a 71-year-old woman and a 19-year-old man.
The pair were released under investigation on Tuesday after being arrested on suspicion of murder the previous day.
Today more than 50 personnel, including police, coastguard, the fire brigade and Dorset search and rescue were continuing to look for Miss Pope.
Pc Simon Colvin, neighbourhood officer for Swanage, told the volunteers: "The community has done an amazing job of coming together to help.
"Some of you are local and some of you have travelled a long way. I understand someone has travelled over 300 miles to come and help today.
"People's help really is appreciated."
But he warned volunteers to watch out for hidden disused mineshafts and to stay away from the cliffs.
"The last thing we need is anyone putting themselves in danger, which could take resources away from elsewhere," he added.
Local Conservative MP Richard Drax, who represents South Dorset, said Miss Pope needed to be found as soon as possible.
"I spoke to the family at length yesterday and they are very grateful and very touched by the effort everyone has been making," he said.
"What we have to do now is find the girl and find her as fast as we can, and hope alive.
"It's awful. I have got two daughters and not to know what has happened to your daughter must be ghastly.
"They are being incredibly stoical under the circumstances.
"I think you just go numb as a family when something like this happens, you pull together and do the best you can to try and find her and they have been very active in that.
"They have been amazing, coordinating all sorts of things, Facebook searches etc and they are still doing that today and they will go on until they find her."
Asked if Miss Pope was still alive, Mr Drax said: "I can't be confident of that but I don't think we can say it is a murder investigation because there is no body, so at the moment it is a search for a missing person.
"We hope that they find her alive, we hope that she's holed up somewhere, we just don't know."