'I will not let negativity break me': Bukayo Saka speaks out after Euro 2020 racist abuse
15 July 2021, 17:00 | Updated: 15 July 2021, 21:01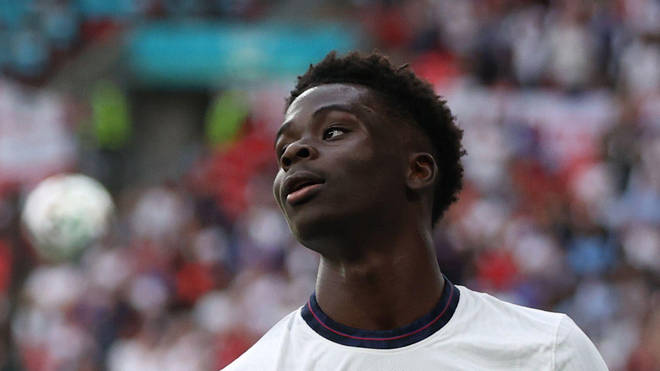 England footballer Bukayo Saka has spoken out after facing racist abuse online, following the Euro 2020 final.
Saka was one of three to miss his penalty during the final at Wembley, along with Marcus Rashford and Jadon Sancho.
England's loss led to an onslaught of racist abuse towards the players on social media, despite their efforts in the tournament.
In the first words from Saka following the game, he said in a statement: "I have stayed away from social media for a few days to spend time with my family and reflect on the last few weeks.
"This message won't do it justice how grateful I am for all the love that I have received, and I feel that I need to thank everyone that has supported me."
He went on to say: "There are no words to tell you how disappointed I was with the result and my penalty."
But he vowed: "I will not let that moment of negativity that I've received this week break me."
Read more: 'An outpouring of love': Fans leave messages of support at vandalised Rashford mural
Saka later called out social media platforms for their lack of action.
"To the social media platforms Instagram, Twitter and Facebook, I don't want any child or adult to have to receive the hateful and hurtful messages that me, Marcus and Jadon have received this week.
"I knew instantly the kind of hate that I was about to receive and that is a sad reality that your powerful platforms are not doing enough to stop these messages."
"There is no place for racism or hate of any kind in football or in any area of society and to the majority of people coming together to call out the people sending these messages, by taking action and reporting these comments to the police and by driving out the hate by being kind to one another, we will win.
"Love always wins."
Read more: 'Hate will never win': Jadon Sancho speaks out after Euro 2020 racist abuse
This comes after it was revealed social media companies were handing police the details of accounts involved in racism towards England football players, with five arrests being made so far in connection with the abuse.
Chief Constable Mark Roberts, the National Police Chiefs' Council football policing lead, said the companies were "working very closely" with the UK Football Policing Unit (UKFPU) - which is conducting the hate crime inquiry - to identify those responsible.
Instagram was previously criticised for failing to remove racist comments on the footballers' accounts, telling those who reported them that the comments did not break the platform's rules.
The platform admitted that the app had "mistakenly" failed to flag some racist comments but said the issue had been addressed.
Read more: Instagram users who report racist posts told they 'do not qualify for ban'
On Twitter, thousands of comments had to be deleted, with a spokesperson for the platform saying on Monday that the abuse was "abhorrent" and "unacceptable".
The Football Association said it was time social media companies took "accountability and action" to stop the abuse online.
Prime Minister Boris Johnson met heads of social media companies on Tuesday, warning them that - under the Online Harms Bill - they could face fines of up to 10 per cent of their global revenue if they did not act to remove hateful and racist abuse from their platforms.
"I said we will not hesitate to go further because they do have the technology to sort this out, they can adjust their algorithms and we will use legislation if we have to, just as we used the threat of legislation to stop the European Super League," Mr Johnson explained on Thursday.
There have since been renewed calls for people to connect ID to their social media accounts, meaning they would have to take more responsibility for what they share online.