Reckless Driver Leads Police On 110mph Chase, With His Baby In The Front Seat
14 October 2017, 14:56 | Updated: 14 October 2017, 15:14
After being pulled over by police, the father waited for the officers to stop before ramming his way back onto the motorway.
This shocking footage shows the moment a driver led police on a 110mph chase - despite having his baby in the car.
Daniel Rawlings, 38, is starting a stint behind bars for his dangerous driving after a judge told him: "Fortune has smiled upon your child."
Police were tipped off about the serial offender and boxed in his Audi Q7 4x4, captured on dashcam footage.
But after spotting a gap, Rawlings rammed a patrol car and escaped onto the motorway.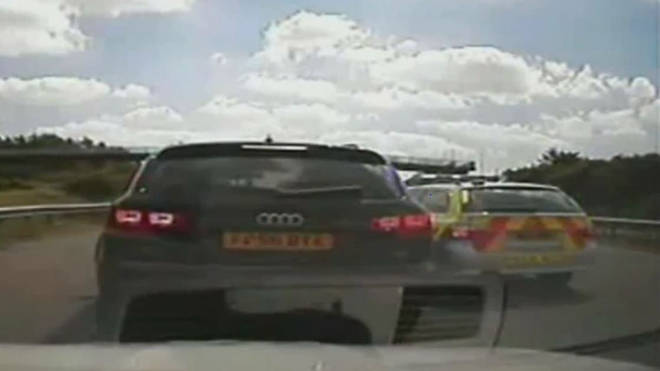 When his car eventually ground to a halt after a stinger device was used to blow out a tyre.
Police officers were horrified when they saw an 11-month-old boy in a baby seat in the front of the car.
Prosecutor Timothy Hills said Rawlings accelerated to speeds of between 100mph and 110mph in a bid to evade capture at the Second Severn Crossing, linking England and Wales.
He overtook other cars and led police on a chase down the M49 motorway, before leaving at a junction with the M5 and driving at 50mph through a 20mph zone.
Rawlings, of Hartcliffe, Bristol, admitted dangerous driving after the pursuit on May 25. It was his third conviction for the same crime, the court heard.
Robert Morgan-Jones, defending, said: "He made a real and determined effort to get away from the police and not be stopped.
"He kept to the road and most of the driving was in Sea Mills around 30mph.
"It was very dangerous, but it may not have been the most dangerous.
"It was aggravated by the child being in the car."Sentencing Rawlings to 16 months, Judge Mark Horton said: "The person most probably at the greatest risk was the 11-month-old child seated on the front passenger seat.
"Fortune has smiled upon your child.
"There was nothing you were not prepared to do with that motor car to put anyone at risk."
Rawlings was banned from driving for three years at Bristol Crown Court and must take an extended test when he is released.
Watch the full clip at the top of this page.