Israel encircles Gaza City and splits strip 'in two' as it ramps up for major assault on Hamas
5 November 2023, 23:06 | Updated: 6 November 2023, 05:43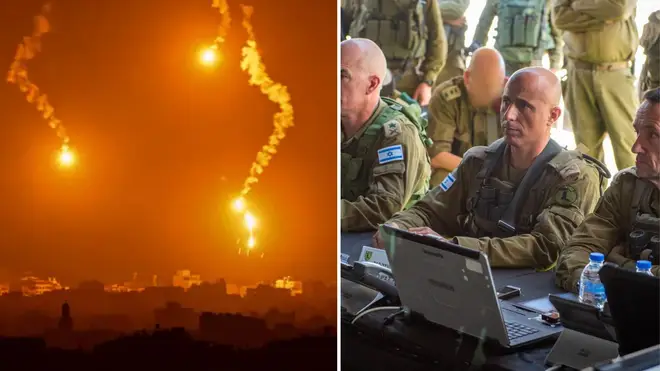 Israel has encircled Gaza City - effectively splitting the strip in two amid heavy bombing and expectations of a large assault on Hamas.
Israeli IDF troops have reached the sea after pushing deep into the Palestinian enclave, cutting off Gaza City as it prepares for an anticipated assault on Hamas infrastructure.
Power and electricity have been cut off to the region for the third time since its war with Hamas began.
Israel "will continue to attack strongly and continue to intensify our ground operation in the northern Gaza Strip and greater Gaza City", it said on Sunday.
"Today there is north Gaza and south Gaza," Rear Admiral Daniel Hagari said, calling it a "significant stage" in Israel's war against the Hamas militant group.
The IDF has said it is still "allowing a corridor" for those in northern Gaza and Gaza city to travel south.
The confirmation of the encirclement came after Israeli warplanes struck a refugee camp in the Gaza Strip early on Sunday, killing at least 53 people and injuring dozens of others according to health officials.
Read More: Warplanes strike Gaza refugee camps as Israel rejects call to suspend fighting
The attack came as Israel said it will press on with its offensive to crush the territory's Hamas rulers, despite US appeals for a suspension of the fighting to get aid to desperate civilians.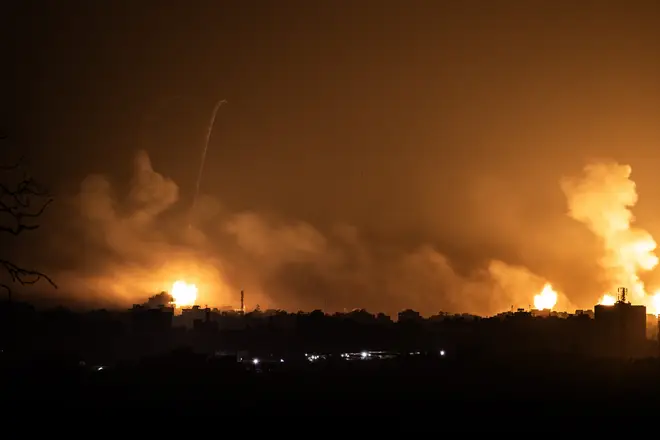 Read more: Met Police 'stops work with adviser' after community revealed to have sang anti-Israel chant in 2021
Read more: We need similar moral outrage shown for Israelis killed by Hamas as there was for George Floyd, says Deputy PM
America's top diplomat Antony Blinken called for more humanitarian aid to be taken into Gaza, as he said: "We have about 100 trucks a day going in, that's good, but it's insufficient. So we're now we're workin on raising that significantly so that more aid in a sustained way gets into Palestinians who need it."
The soaring death toll in Gaza has sparked growing international anger, with tens of thousands from Washington to Berlin taking to the streets on Saturday to demand an immediate ceasefire.
Israel has rejected the idea of halting its offensive, even for humanitarian reasons. Instead, it said Hamas is "encountering the full force" of its troops.
"Anyone in Gaza City is risking their life," Israeli Defence Minister Yoav Gallant said.
"We have a clear goal of restoring a significantly better security situation at the borders, not only in the Gaza Strip... We are ready to strike in the north at any moment."

- The Chief of the General Staff, LTG Herzi Halevi, during a meeting in the Northern Command pic.twitter.com/3aPpu8hMen

— Israel Defense Forces (@IDF) November 5, 2023
Large columns of smoke rose as Israel's military said it had encircled Gaza City, the initial target of its offensive.
Gaza's Health Ministry has said more than 9,400 Palestinians have been killed in the territory in nearly a month of war, and that number is likely to rise as the assault continues.
Ashraf al-Qidra, the spokesperson for the Gaza health ministry, called for safe passage for 400 critically injured people to leave Gaza through Rafah and said hospitals had almost exhausted their last fuel supplies.