'No Covid variant has spread this fast': Fears Omicron helping infect 200,000 people daily
13 December 2021, 16:24 | Updated: 13 December 2021, 21:08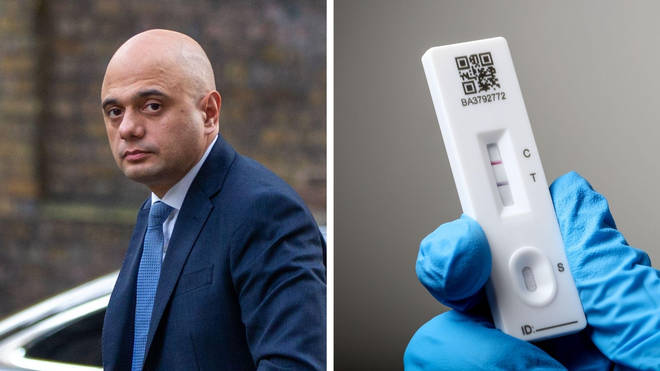 The Omicron variant is causing 200,000 coronavirus infections each day, Sajid Javid has revealed.
Health Secretary Sajid Javid told the Commons on Monday that Omicron will become the dominant strain in London in the next two days.
It only represents 20% of cases in England, but "we can expect those numbers to dramatically increase in the days and weeks" to come, he said.
The total number of confirmed cases in the UK is fewer than 5,000 - but Mr Javid's revelations show how fast it is thought to be expanding.
Read more: Health Sec warns of 'race against Omicron' as booster jabs offered to all adults
Read more: Home Covid tests unavailable and NHS jab booking system crashes amid new rules
He told MPs that "no variant of Covid-19 has spread this fast" and the NHS was moving to its maximum level of preparedness.
"There are now 4,713 confirmed cases of Omicron in the UK," Mr Javid told MPs.
"And the UK Health Security Agency estimates that the current number of daily infections are around 200,000.
"While Omicron represents over 20% of cases in England, we've already seen it rise to over 44% in London and we expect it to become the dominant Covid 19 variant in the capital in the next 48 hours."
It was initially unclear if the 200,000 figure referred to all coronavirus infections or just Omicron cases. The Guardian reported that the UK Health Security Agency said the 200,000 figure refers to Omicron and this was based on modelling.
The Government has moved to offer all adults a coronavirus booster jab by the end of the year in England, as it's thought a third dose will provide better protection against a variant that has eroded some of the defence two doses granted people.
A series of measures wrapped up in "Plan B", including an expanded mask mandate and changes to travel rules, are designed to curb Omicron's spread.
A requirement for people to use the NHS Covid vaccine pass or a negative test to gain entry to some venues and events has also been implemented.
When enough adults have had the chance to get a booster, it will become a requirement to have received a third jab now, Mr Javid announced.
On Sunday, it was confirmed that the UK's Covid alert level would rise from three to four.
The Government is now going fully ahead with trying to get all adults their third dose, with military planners helping the massive rollout that ministers have admitted will see some health appointments get kicked into 2022.
Mr Javid warned that he is "convinced that if we don't prioritise the booster now the health consequences will be far more grave in the months that lie ahead".
It has been confirmed that 10 people in England are hospitalised with the Omicron variant while one person is known to have died after being infected with it.
But Mr Javid joined Boris Johnson in moving to dispel the idea that the variant is milder than other forms of coronavirus.
"It's vital we remember that hospitalisations and deaths lag infections by around two weeks so we can expect those numbers to dramatically increase in the days and weeks that lie ahead," Mr Javid warned.
"In preparation, the UK's four chief medical officers raised the Covid alert level to four, its second highest level, this was done over the weekend.
"And NHS England has just announced that it will return to its highest level of emergency preparedness, level four national incident.
"This means the NHS response to Omicron will be coordinated as a national effort rather than led by individual trusts."
Mr Javid spoke as queues built up at vaccination sites as people tried to get their booster jab.
Meanwhile, the online service providing home testing kits went down as the Government told contacts of a Covid case to take daily lateral flow checks.
Labour shadow health minister Wes Streeting described Covid testing as a "shambles", pointing to how even Parliament was unable to get tests on Monday.
He said: "This is a serious problem. Those coming into contact with positive Omicron cases will not be able to follow the rules and get themselves tested on a daily basis."