Joe Biden sidelined as Barack Obama mobbed during White House return
7 April 2022, 07:56 | Updated: 7 April 2022, 11:58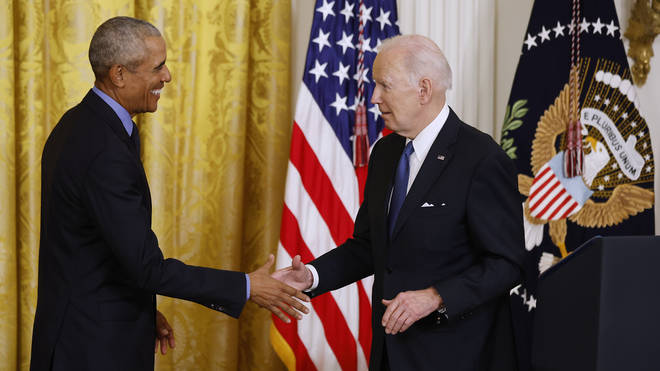 Joe Biden has been filmed appearing to look lost during a White House event with former President Barack Obama.
The President was mocked by Republicans after Barack Obama outshone him at a White House event, with the US president seen standing alone as his predecessor was encircled by admirers.
At one point the President appears to raise his hands in exasperation.
Mr Obama was invited back to the White House by his former Vice President on Tuesday to celebrate the 12th anniversary of the launch of the Affordable Care Act.
The Republican National Committee's Research Twitter account, among others, posted clips and characterized them as showing Biden's unpopularity.
Very curious about which White House staffers thought it was a good idea to have Obama attend and inevitably upstage Biden in the first place. This was obviously going to happen. https://t.co/u1qviyVL7v

— Katie Pavlich (@KatiePavlich) April 6, 2022