John le Carré, author of Tinker Tailor Soldier Spy, dies aged 89
13 December 2020, 22:06 | Updated: 13 December 2020, 23:22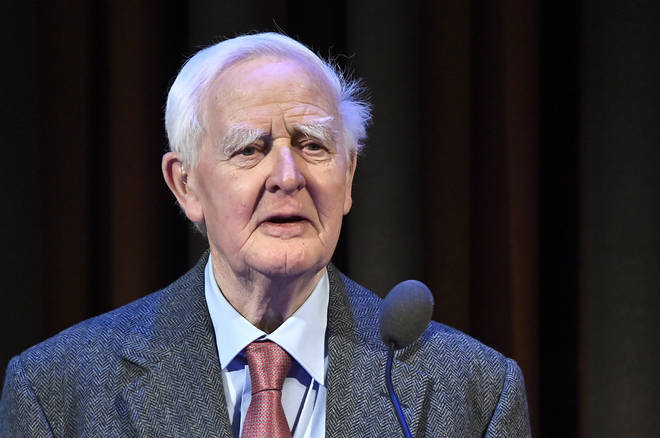 John le Carré, author of Tinker Tailor Soldier Spy, has died aged 89 after a short illness, his literary agents have confirmed.
The author, real name David Cornwell, died on Saturday after a short battle with pneumonia.
Among his 25 novels were acclaimed best-sellers including Tinker Tailor Soldier Spy, The Spy Who Came In From The Cold, and The Night Manager.
Cornwell drew on his experience working for the British intelligence services including MI6 during the Cold War in his writing, but later in life said he was irked at the extent to which his fiction was portrayed as representing real-world spying.
His most well-known character was the career intelligence officer George Smiley - made even more famous by Alec Guinness in the TV series of Tinker Tailor Soldier Spy.
Born in 1931, Cornwell was first educated at the University of Bern, in Switzerland, where he studied German.
He studied further at Oxford before teaching at Eton, then embarking on his undercover intelligence career, in the guise of a junior diplomat at the British embassy at Bonn, in western Germany.
His first thriller, Call For The Dead, was published pseudonymously in 1961.
Two years later, the publication of The Spy Who Came In From The Cold, a story about an assignment to confront East German Intelligence, brought him world-wide acclaim, and he left the service to pursue writing full time.
Cornwell said his manuscript was approved by the secret service because they "rightly if reluctantly" concluded it was "sheer fiction from start to finish" and posed no security risk.
But he said the world's press took a different view, deciding the book was "not merely authentic but some kind of revelatory Message From The Other Side".
John le Carre has passed at the age of 89. This terrible year has claimed a literary giant and a humanitarian spirit.

— Stephen King (@StephenKing) December 13, 2020
Writing in the Guardian in 2013, Cornwell recalled watching it climb the best-seller list with "a kind of frozen awe" which then gave way to a "kind of impotent anger".
He wrote: "Anger, because from the day my novel was published, I realised that now and forever more I was to be branded as the spy turned writer, rather than as a writer who, like scores of his kind, had done a stint in the secret world, and written about it."
Cornwell's literary agent Jonny Geller, of Curtis Brown, said in a statement: "His like will never be seen again, and his loss will be felt by every book lover, everyone interested in the human condition.
"We have lost a great figure of English literature, a man of great wit, kindness, humour and intelligence.
"I have lost a friend, a mentor and an inspiration."
A statement shared on behalf of the author's family said: "It is with great sadness that we must confirm that David Cornwell - John le Carre - passed away from pneumonia last Saturday night after a short battle with the illness.
"David is survived by his beloved wife of almost 50 years, Jane, and his sons Nicholas, Timothy, Stephen and Simon.
"We all grieve deeply his passing. Our thanks go to the wonderful NHS team at the Royal Cornwall Hospital in Truro for the care and compassion that he was shown throughout his stay. We know they share our sadness."