Jonnie Irwin reveals he is back in hospital and being observed 'every four hours' as he continues cancer battle
13 November 2023, 22:42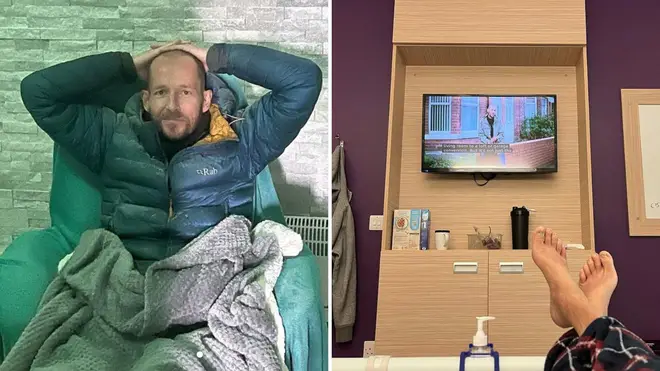 Jonnie Irwin has revealed he is back in hospital and being observed "every four hours" as he continues his cancer battle.
The A Place in the Sun presenter was given just six months to live when he was diagnosed in August 2020. The cancer has since spread to his brain, he revealed after publicly shared his prognosis in November.
Irwin is now on drips and trying to remain optimistic ahead of his 50th birthday this Friday.
He previously said he was planning to set off to Spain to celebrate the milestone as he continues to defy his prognosis.
Read more: 'I won't let it define me': Jonnie Irwin defies doctors' prognosis as he plans 50th birthday amid terminal cancer battle
Read more: Jonnie Irwin reveals cancer is 'on the move again' as he shares his frustration over wait for scans
The presenter shared an update from his hospital bed on Instagram on Monday, saying: "Back in hospital - been in since Friday with Jaundice.
"I had a fever and acute stabbing pain in my right hand side. Turns out I probably had an infection and otter issues which I won't bore you with."
He added: "Been on drips, regular bloods taken and have observations every 4 hours through day and night."
"I must admit I was especially touched by the birthday message from the the team for my birthday this coming Friday- thanks very much," Irwin continued.
"I have another scan today followed by a meeting with my oncologist so fingers crossed for positive news."
Irwin previously thought his final days had come earlier this year after doctors warned he wouldn't make it to his twins' third birthday party in June.
His weight fell below six stone and he was so weak he struggled to walk.
But despite predictions, he not only made it to his kids' third birthday party, but is now mapping out plans to celebrate his own.
"Lying in the hospice, I thought I'd had it," he told The Sun.
"I was on the cusp of death."
But the star refused to quit fighting, as he set himself on a mission to get stronger when he returned home to spend time with family.
Following treatment, including chemotherapy, the star now weighs over eight stone and spends all the time he gets with his kids.