Jordan Peterson says 'short-term and hedonistic' sexuality is a 'foolish grounds for identity'
1 November 2023, 16:30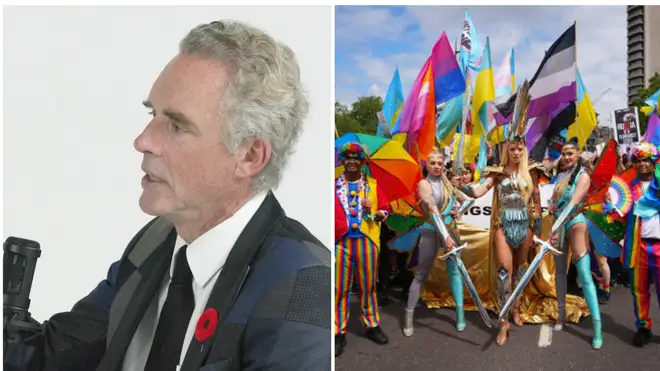 Jordan Peterson has said sexuality is a "foolish grounds for identity".
Psychologist Peterson, who has a huge global following, is launching an organisation called the Alliance for Responsible Citizenship.
The organisation says that it wants to develop "a better narrative in response to life's most fundamental social, economic, philosophical and cultural questions.
"We reject the inevitability of decline and instead are seeking solutions which draw on humanity's highest virtues and extraordinary capacity for innovation and ingenuity."
Mr Peterson told LBC's Tom Swarbrick that "people are hyper concerned with their identities now.
Read more: Just Stop Oil activists disrupt London Pride parade, labelling sponsor 'world's biggest plastic polluter'
Read more: Natasha Devon on why 'I don't care' isn't helpful to those who come out as LGBTQ+
Jordan Peterson's unorthodox interview with Tom Swarbrick
"'We need an identity, our identities are in danger'," he said, imagining their concerns.
"And then if you look at the hallmarks of the identities that are being clamoured for you see that they're very short-term and hedonistic [like] sexual identity.
"For example, I'm defined by who I want to sleep with, well, why that..?" He said that approach was "foolish".
"That's a foolish grounds for identity. It's like identifying with being hungry".
Mr Peterson said that the traditional family structure was a good building block to create a solid structure for society.
"Let's say you should take care of yourself, your extended self, treat yourself in a way that will iterate across time, that's the same as maturity," he told Tom.
"if you can do that, find a partner, unite, and do the same in the partnership, then extend it to the family, then extend it to the community, the town, the city, the nation, right, and then a higher order moral purpose, and then identity is that entire structure."
Mr Peterson said that "we also identify almost all of that with a tyrannical patriarchy."
He added that he thought young people from religious backgrounds were less encumbered by some of the problems of identity.
He said it was unclear if that was due to religion itself, or because of the stability that parents from traditional, conservative backgrounds might have passed on during their upbringing.