Keir Starmer insists 'no rules were broken' after police confirm 'Beergate' investigation
6 May 2022, 12:47 | Updated: 6 May 2022, 18:38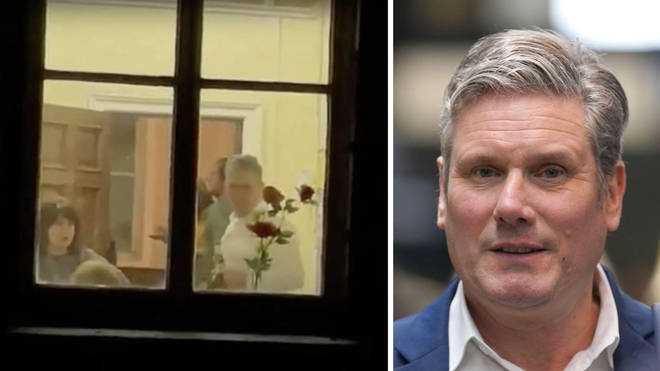 Labour leader Sir Keir Starmer has insisted that there was "no party" and "no rules were broken" after Durham police confirmed that it would be investigating the alleged "beergate" scandal.
Sir Keir has come under pressure since footage emerged of him drinking a beer with colleagues in April 2021 in Durham during campaigning for the Hartlepool by-election.
At the time of the gathering, non-essential retail and outdoor venues including pub gardens were open but social distancing rules, which included a ban on indoor mixing between households, remained in place.
In the light of the partygate scandal, Durham police were asked by Conservative MP Richard Holden (North West Durham) to reconsider their assessment that no offence was committed during the meeting.
Speaking to reporters on Friday, Sir Keir said: "As I've explained a number of times, we were working in the office, we stopped for something to eat - no party, no breach of the rules.
"The police obviously have got their job to do, we should let them get on with it.
"But I'm confident that no rules were broken.
"Meanwhile, we've had a really good set of results today."
Read more: Defiant Boris vows to carry on after 'tough night' for Tories in local elections
Asked what the difference was in the event the Prime Minister was fined for and the allegation against the Labour leader, Sir Keir said: "Well I was working, I stopped for something to eat, no party, no breach of the rules.
"Obviously I understand the police need to do their job, we need to let them get on with that but I'm confident there was no breach of the rules."
Former Labour leader Jeremy Corbyn earlier told LBC that whilst it is a "very serious development", he wouldn't be drawn on whether Sir Keir should resign if he is fined by police, as he did not want to pre-empt a police investigation.
Sir Keir previously admitted his office made a "genuine mistake" by wrongly claiming his deputy Angela Rayner was not there on the night he had a beer and takeaway.
Durham Constabulary said: "Earlier this year, Durham Constabulary carried out an assessment as to whether Covid-19 regulations had been breached at a gathering in Durham City on April 30 2021.
"At that time, it was concluded that no offence had been established and therefore no further action would be taken.
"Following the receipt of significant new information over recent days, Durham Constabulary has reviewed that position and now, following the conclusion of the pre-election period, we can confirm that an investigation into potential breaches of Covid-19 regulations relating to this gathering is now being conducted."
Even if Sir Keir is found to have breached the coronavirus regulations, he and others in attendance are unlikely to receive fixed penalty notice's as Durham Constabulary insisted it does not issue fines retrospectively
The force said its "general approach" was not to take "retrospective action", including against former Downing Street chief adviser Dominic Cummings over his notorious trip to Barnard Castle to "test his eyesight" while the country was in lockdown.
Describing the evening on Wednesday, the Labour leader said: "We're on the road at the end of the day, we're in the office preparing.
"Now, that evening, from memory, we were doing an online event for members because we had this get out the vote thing."
Read more: Mum gets driving ban and £40 fine for 'nudging' eco-protester with Range Rover
He added: "At some point, this was in the evening, everybody's hungry and then that takeaway was ordered. It was then delivered into the kitchen of the opposite...
"Restaurants and pubs were closed, so takeaways were really the only way you could eat.
"So, this was brought in and at various points people went through the kitchen, got a plate, had some food to eat and got on with their work."
It comes as The Sun reported Met Police bodyguards, who had accompanied Sir Keir to Durham, witnessed the Labour leader and aides drinking beers and eating £200 of curry.
According to the newspaper, witnesses suggest dozens of MPs and aides gathered at Durham Miners' Hall, with the police car still there late into the evening.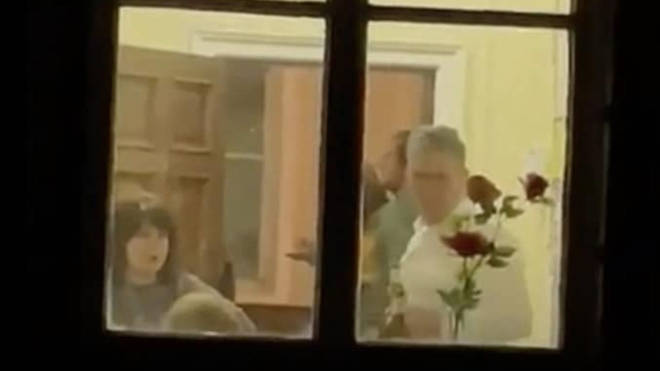 Environment Secretary George Eustice previously told Nick Ferrari that a full inquiry was needed into beergate saying: "It's certainly the case that Keir Starmer's got questions to answer.
"I mean, we've all seen him being highly self-righteous in recent weeks about allegations around the Prime Minister and the fact that the Prime Minister received that Fixed Penalty Notice for literally having people around with a cake for his birthday.
"He said the allegations levelled at Sir Keir were "quite extraordinary claims if they turn out to be true".
"I think we definitely need to hear from Keir Starmer, he's got questions to answer, we need to see a full account of what happened because this story does seem to be quite well-sourced to police protection officers," he added.
Business Secretary Kwasi Kwarteng said it was "only a matter of time" before Labour leader Sir Keir Starmer would be investigated by Durham Police over the allegations.
Writing on Twitter, he said: "Only a matter of time. The law should be applied fairly and consistently across the country."
Whilst a Labour Party spokesperson said: "We're obviously happy to answer any questions there are and we remain clear that no rules were broken."
Prime Minister Boris Johnson, his wife Carrie Johnson, and Chancellor Rishi Sunak are among those to have already been fined for breaking Covid laws.