Chaos on Friday evening commute from Kings Cross as LNER says 'don't travel' due to Storm Babet
20 October 2023, 19:13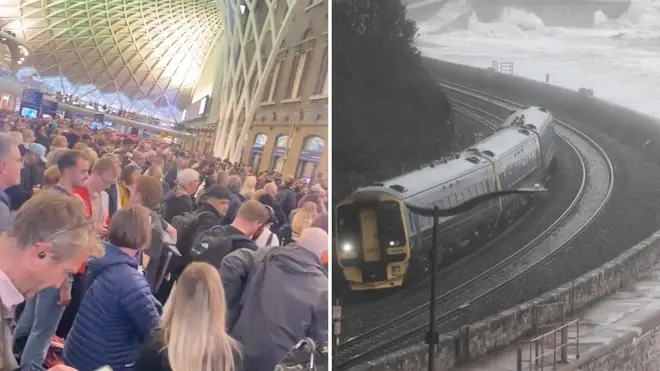 Large crowds gathered at King's Cross on Friday evening as Storm Babet caused "major disruption" to London North Eastern Railway (LNER) trains.
Many trains were delayed or cancelled because of the high winds and heavy rain caused by the storm, and LNER simply told people not to travel.
All trains going north from Edinburgh were cancelled entirely because of the rain. The company said that it did not expect to run any trains north of the Scottish capital until Monday at the earliest.
Other services to Leeds and Lincoln were also cancelled. Trains to more southerly destinations like King's Lynn, Cambridge and Peterborough were running on time.
Footage and images showed flooded train tracks amid the torrential downpours. Several people shared stories of being told to get off trains before they reached their destination after they were cancelled mid-service because of the extreme weather.
A video taken in King's Cross on Friday evening showed a crowd of commuters, many trying to find alternative routes amid the train cancellations.
Read more: Fury as Euston signal failure blocks all lines and passengers are left trapped in carriages
Read more: Passengers 'screaming' as holiday jet comes off runway at Leeds Bradford Airport as Storm Babet batters Britain
LNER said: "Severe weather is causing major disruption to train services. Many rail routes are suspended. Please do not travel today.
"We have services severely delayed across the route and we are working with Network Rail to get these trains moving as soon as possible.
"A new red weather warning has been issued across Scotland which will be in place until midnight on Saturday 21 October and the railway north of Edinburgh remains closed. Following this, a full safety inspection of the rail network is required by Network Rail Scotland before any rail routes can be reopened. We therefore do not expect to run any rail services north of Edinburgh until Monday 23 October at the earliest.
"LNER is not running any services north of Edinburgh at present. Please do not travel on this part of our route.
"We apologise for any inconvenience this may cause."
Large parts of the UK have been hit by transport disruption due to the heavy rain and strong winds caused by Storm Babet.
Several major roads have been closed, rail lines blocked and flights grounded by the severe weather. One plane came off the runway at Leeds-Bradford airport, and a lorry overturned on the M4.
Three people have died in Scotland and England in the storm.