Knife Crime Protesters To Shut Down Westminster Bridge
17 April 2019, 08:16 | Updated: 17 April 2019, 14:50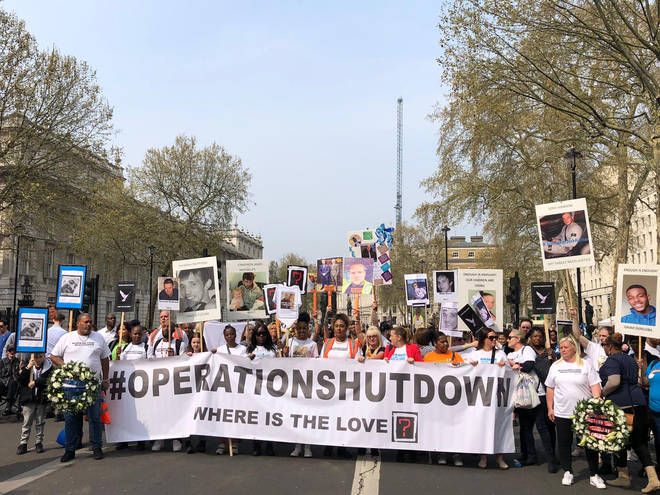 Anti-knife crime protesters have gathered in Whitehall to demand a Cobra meeting to tackle the surge in violent crime in recent years.
Parents who have lost children to knife crime, bereaved family members and loved ones have meet outside Downing Street to demand that the government takes action on the violent crime epidemic that has plagued the country.
Under the banner of Operation Shutdown, the group describe a "war zone type environment" and demand that the government take action.
LBC Reporter Lucy Hough said that protesters intended to march from Downing Street to Westminster Bridge, via the PC Keith Palmer memorial at Parliament where a wreath will be laid.
Protesters anticipate shutting down the bridge until 4pm.
Scotland Yard said a "proportionate policing plan" is in place ahead of the anti-knife crime protest. The move comes as parts of London have been shit down by climate change protesters.
Among the list of requests, campaigners say they want Parliament to immediately review sentencing guidelines for repeat weapon offenders, and for the Government to restore police budgets to "pre austerity levels, to ensure adequate police numbers, staffing and resources."
Lucy Martindale lost a cousin to knife crime and helped to organise the protest said: "We would like a Cobra meeting now. We don't understand why Cobra hasn't been called.
"If there is a terrorist attack and one person is killed there is a Cobra. Several people daily are being killed on our streets, why is this not being treated as the national emergency that it is?"
The protest comes just days after the Home Secretary gave a major speech on crime, during the speech Sajid Javid said that violent offending should be treated like the "outbreak of some virulent disease".
Mr Javid demanded that all parts of Government work together to tackle crime "in all its guises".
Under the plans, state bodies could be made subject to a legal duty requiring them to have "due regard" to the prevention and tackling of serious violence.
Earlier this year, a spate of fatal stabbings prompted warnings of a "national emergency".
This saw an extra £100m funding for Violence Reduction Units, bringing together a range of agencies including health, education, social services and others, to develop a multi-agency approach in preventing knife crime altogether.
As well as extra funding, rules on the use of stop and search have been relaxed in violence-hit areas.