Manchester stands firm against Tier 3 as Lancashire heads into tougher Covid rules
16 October 2020, 11:05 | Updated: 16 October 2020, 14:59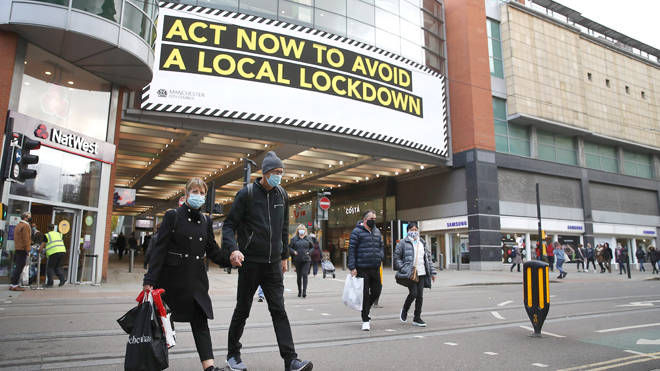 Lancashire is to enter Tier 3 lockdown restrictions but Manchester is still resisting the plans with city leaders accusing No10 of trying to make the north a "sacrificial lamb."
The entire county will enter restrictions at midnight on Friday after tense meetings between council leaders, mayors and ministers.
Local reports suggest that pubs and bars not serving food are set to close, but gyms and leisure centres will stay open.
Casinos, bingo halls, bookmakers and betting shops, and soft play areas will also be asked to close.
Leaders have reportedly secured £42m out of the £58.2m it was demanding in support for affected businesses and other council services.
Some council leaders, however, are unhappy with the outcome and believe a national 'circuit break' lockdown is the best option to halt the rising infection rate.
Explained: What does tier 3 lockdown mean? Rules, restrictions and areas revealed
Read more: No10 'can force Manchester into Tier 3 restrictions, Raab warns
One councillor in the negotiations told LBC that Downing Street played leaders off against each other, threatening those opposing Tier 3 with the imposition of stricter measures with no funding unless they agreed.
Councillor Paul Foster, Leader of South Ribble Council, said councils were "bullied and blackmailed" into accepting the measures.
"It's not the way in how you should conduct negotiations, I don't think. Fundamentally, a number of us don't believe that it will stem the spread of the virus.
"However, we got to a position where if we didn't agree to the proposals then our local communities would have faced even more draconian measures.
"Some may feel that [council leaders] were offered a better deal out of it, but many of us don't - we got to a position where we were pushed and harassed into it."
He added that all three of the county's public health directors for Lancashire, Blackpool and Blackburn-with-Darwen support a national lockdown and are concerned that Tier 3 measures do not go far enough.
Preston Labour MP Mark Hendrick has given his backing to party Leader Sir Keir Starmer's call for a national lockdown.
In a tweet, he said Tier 3 restrictions "won't stop" the virus spreading in his constituency.
Read more: Wedding venue owner faces £10,000 fine after 100 guests attend reception
After Government official struck the deal, Health Secretary Matt Hancock said: "An unrelenting rise in cases in Lancashire means we must act now, and we have worked intensively with local leaders to agree on additional restrictions.
"I know how heavy these additional challenges will weigh on everyday life for the people of Lancashire – but they are critical in bringing this virus under control.
"Without them, we risk the health of your loved ones, your most vulnerable, and your local NHS services. Now is the time to play your part, and we will make sure you are supported."
We need a proper #Covid19 circuit-break - Tier 3 measures in #Preston won't stop this virus. Two-thirds of wages are simply not enough to live on when you earn the national minimum wage, livelihoods need to be protected and Universal Credit will just not cut it.

— Mark Hendrick (@MpHendrick) October 16, 2020
Meanwhile in Liverpool, Mayor Joe Anderson has demanded an "immediate clarification" on why gym in his city have been forced to close but gyms in Lancashire can remain open.
In a tweet, he wrote: "Liverpool City Region has demanded immediate clarification on why Lancashire gyms are allowed to stay open and Liverpool's close.
Read more: Armed police fine Merseyside gym owner after he refused to close under Tier 3 rules
"Inconsistent mess we now have Tier 3 A and Tier 3 B. Are gym users in Lancashire more safer than those in Liverpool Region?"
It follows days of negotiations to place large parts of the North West of England into Tier 3 lockdown.
Boris Johnson is threatening to force Greater Manchester into the top category despite a rebellion from local leaders.
There has been resistance from leaders in some cities including in Greater Manchester, where Mayor Andy Burnham is demanding a similar package of funding.
On Friday morning, the mayors of Greater Manchester, the Liverpool City Region and North Tyne issued a joint statement rebutting claims that the North of England is divided.
Read more: Police to step up action as London goes into 'tier two' at midnight
"The Government is claiming that the North is divided and only interested in getting what we can for our own region.
"We are all united in fighting for an 80% furlough scheme for all people affected by regional lockdowns, wherever they are in the country.
"Paying two-thirds of salaries will not be enough to protect the jobs of thousands - it should match at least the 80% that was available under furlough, with the minimum wage as the minimum support."
Overnight, graffiti stating 'the North is not a petri dish' appeared on the infamous Piccadilly Gardens wall in Manchester.
Images of the wall have gone viral on Twitter, as well as people declaring Mayor Burnham 'King in the North' - a reference to Game of Thrones.
Greater Manchester leaders are meeting from 3pm to discuss further measures in private, but it is understood no further discussion with the Government will take place today.
It remains unclear whether the North East will move from Tier 2 to Tier 3 in the coming days, but it has been reported that the region could get 'one week's reprieve' before being placed under stricter measures.
At 4pm the Prime Minister is due to hold a press conference, where it is expected he will make an announcement on coronavirus restrictions.