Location, Location, Location star Phil Spencer's dad died of lung injury hours after nearly drowning in car accident
30 October 2023, 20:14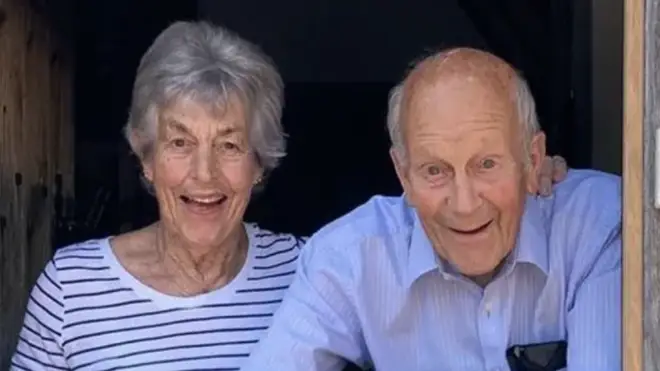 Location, Location, Location star Phil Spencer's dad died from a lung injury hours after his car overturned in a river, an inquest has heard.
The 89-year-old farmer was rushed to hospital after he nearly drowned but never regained consciousness.
Opening the inquest into his death at Maidstone County Hall, Sarah Clarke said he died of aspiration pneumonitis, which is a lung injury.
Richard David Edward Spencer and his wife Anne Spencer both died after the crash as they were on their way to lunch on August 18, 2023, Phil Spencer previously said.
Ms Clarke said that at around 12.20pm on August 18, Mrs Spencer was driving her Toyota car with Mr Spencer in the front passenger seat, and their full-time live-in carer sitting in the rear of the car.
They drove from their house towards a river and as their vehicle approached the bridge, it tipped over the edge and overturned, Ms Clarke said.
The trio were submerged in around three feet of water, she added.
Read more: Location, Location, Location star Phil Spencer back to work 3 weeks after parents killed in horror river crash
Read more: Matthew Perry cause of death inconclusive and 'deferred' pending toxicology tests as 911 call emerges
Paramedics arrived at around 12.57pm and took Mr Spencer and Mrs Spencer to Queen Elizabeth The Queen Mother hospital in Margate.
Their carer was able to climb out of the car and raise the alarm quickly, according to Mr Spencer when he announced his parents' deaths on Instagram.
The Location, Location, Location presenter paid tribute to his "amazing parents" and said the incident was "what God had planned for them" so they could stay together after six decades of marriage and four children.
Mr Spencer said: "As a family we are all trying to hold on to the fact mum and dad went together and that neither will ever have to mourn the loss of the other one. Which is a blessing in itself.
"Although they were both on extremely good form in the days before (hence the sudden idea to go out to lunch), mum's Parkinson's and dad's dementia had been worsening and the long-term future was set to be a challenge.
"So much so that mum said to me only a week ago that she had resigned to thinking 'now it looks like we will probably go together'. And so they did."
The inquest into Mr Spencer's death will be held on December 19.
The inquest into Mrs Spencer, who also died from the crash, is yet to be opened.