London records zero Covid deaths on one day for first time in six months
29 March 2021, 12:38 | Updated: 30 March 2021, 06:00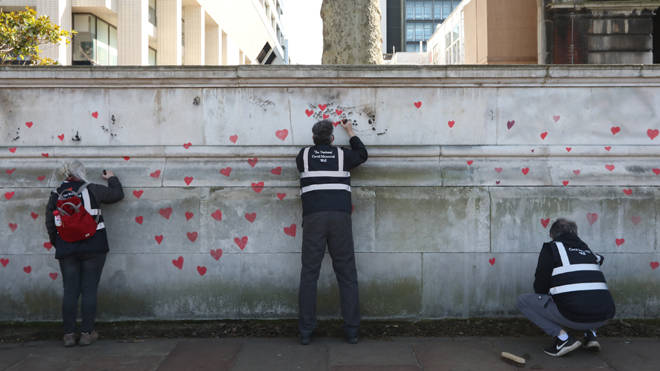 No Covid-19 deaths were registered in London on Sunday, the first time the death toll has not risen in the capital since 14 September, official figures show.
Data from Public Health England showed zero deaths were registered in London on 28 March from people who had died within 28 days of a positive Covid-19 test.
The milestone is a significant one for the capital, which recorded around 230 Covid deaths every 24 hours last April, when it was the epicentre of the pandemic.
A total of 14,413 have died with Covid in London during the pandemic, behind only the South East and North West regions for the highest death toll.
Read more: Groups of six can meet and outdoor sport resumes as England's lockdown eases
While recorded death numbers are generally lower over the weekend, London has seen a steady decline in Covid deaths over the last few weeks.
Last week, the number of deaths with Covid-19 on the certificate in London was 14, down almost half from 24 the previous week.
Read more: Boris Johnson urges public to 'remain cautious' as England lockdown eases
The positive data will come as more good news to Londoners, as restrictions ease and temperatures of up to 24C are forecast over the coming week.
Parks are expected to fill up as people make the most of the rule of six allowing socialising outdoors, while a government spokesperson has also confirmed that day trips from London to the beach are permitted.
Read more: Covid-19: How differently are UK countries leaving lockdown?
However, the Metropolitan Police have warned against "complacency" and urged the public to "minimise" contact with others, as lockdown rules ease.
The force say they will continue to hand out fines at illegal gatherings and will "remain highly visible in communities, including open spaces" as restrictions ease.
Read more: New ad campaign launched urging people not to meet indoors as lockdown eases
Deputy Assistant Commissioner Jane Connors, who leads the Met's response to Covid-19, said the force welcome the "limited relaxation or rules", but warned: "We must not let Monday's news distract us, or usher in any complacency."
"The risk of Covid-19 has not vanished and people across London continue to be infected with this deadly disease.
"Wherever possible, we should continue to be vigilant, minimise our contact as much as possible, wear a face covering where required and keep ourselves safe. That means avoiding any large gathering."
England lockdown changes from Monday 29 March:
Stay at home rule ends - People will be permitted to leave their houses without the need for an exemption, although people should still minimise travel and work from home where they can
Outdoor gatherings permitted - Groups of either six people or two households are permitted to meet outside, including in private gardens
Outdoor parent and child groups permitted - Groups of up to 15 parents will be able to meet outside, with children under five years old not counting towards the limit.
Outdoor sport facilities reopen - Outdoor sports facilities, including golf, tennis and basketball courts, and open-air swimming pools can reopen
Outdoor team sports allowed - Amateur sports can restart, as formally organised outdoor sports are permitted
Weddings can take place - Ceremonies can restart, but only with four guests in attendance
Outdoor protests - Protests are now explicitly exempt from the large gathering rules, if they stick to social distancing rules