London Bridge Attack: What You Need To Know
4 June 2017, 02:33 | Updated: 4 June 2017, 23:19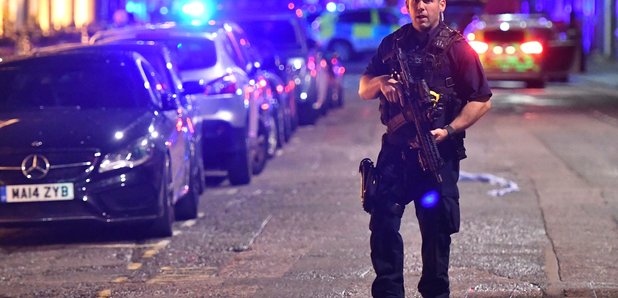 Police have confirmed seven people have been killed in a terrorist attack at London Bridge, while three attackers have been killed. This is what we know.

- Two incidents happened shortly after 10pm on Saturday night, one on London Bridge and one in Borough Market.

- Two terror attacks, one on London Bridge involving a vehicle and knife, and another at Borough Market.

- Seven people have been killed in the incident.

- Three terrorists have been shot dead by police. They were shot eight minutes after the initial call. They were wearing hoax suicide vests.

- Isis claim responsibility for the attack.

- One British Transport Police officer received serious, but not life-threatening, injuries. 48 others confirmed injured.

- An off-duty Metropolitan Police officer was seriously injured during the attack, a Scotland Yard spokesman has said.

- Canadian media has named one victim as Chrissy Archibald. She had moved to Europe to be with her fiancé.

- 12 people have been arrested in Barking, east London, in connection with the attacks.

- Eyewitnesses told LBC they saw a van on London Bridge driving into pedestrians, before three people got out to stab others.

- At Borough Market, witnesses told of further stabbings and gunfire.

- London Mayor Sadiq Khan described it as 'barbaric' and a 'deliberate and cowardly' attack.

- The US embassy praised Sadiq Khan's response to the attack. President Trump had previously tweeted his criticism of the mayor of London.

- The Met say they fired an "unprecedented" 50 bullets to stop the attackers.

- Police have carried out controlled explosions outside the Sun newspaper's offices near the Shard.

- Police originally revealed they were investigating an incident in Vauxhall, but they have now confirmed this is an unconnected stabbing.

- The River Thames had been closed, but this was re-opened at around 2.30am.

- St Guy's Hospital, which is located at London Bridge, was put into lockdown to keep patients and staff safe. People wounded in the attack were taken to a nearby hotel for treatment.

- The Conservatives have suspended election campaigning for Sunday.


- Jeremy Corbyn gave a speech on Sunday evening criticising the current government, saying "you can't protect the public on the cheap" and called for police numbers to increase by 20,000.


- An emergency government COBRA meeting chaired by Theresa May was held at 8.30am, lasting more than an hour. Sadiq Khan and Chris Grayling attended alongside Met Police / Intelligence Chiefs.

- Met Police Commissioner Cressida Dick made a statement at 9.15am and commended the "extraordinary courage" of the emergency services.

- UKIP leader Paul Nuttall refuses to suspend election campaigning, saying: "This is precisely what the extremists would want us to do.



This has landed from Paul Nuttall: Ukip will not suspend its campaign. pic.twitter.com/LcF6yw32om

— Theo Usherwood (@theousherwood) June 4, 2017
- A statement from Theresa May took place at about 10.40am, where she announced campaigning will resume tomorrow and the general election will take place as planned on Thursday.
Prime Minister Theresa May says many of the 48 injured after last night's attack in London have "life-threatening injuries".

— LBC Breaking (@lbcbreaking) June 4, 2017
PM condemns the "evil'' ideology behind recent terror attacks. She says we are experiencing a new trend in the threat we face.

— LBC Breaking (@lbcbreaking) June 4, 2017
PM: Election campaigning will resume tomorrow, the vote will be held on Thursday as planned.

— LBC Breaking (@lbcbreaking) June 4, 2017
PM says there needs to be an international agreement to ``regulate cyberspace'' where extremists have ``safe spaces''.

— LBC Breaking (@lbcbreaking) June 4, 2017
- The Met Police have opened their Casualty Bureau for anyone concerned about a friend. Call on 0800 096 1233 & 020 7158 0197. Please don't use this number for general enquiries.
Met Police chief: Don't believe any suspects at large and now the highest priority is to identify the suspects as soon as possible

— LBC Breaking (@lbcbreaking) June 4, 2017