Euston Trains Cancelled After Huge Warehouse Fire In Harrow
15 September 2017, 07:38 | Updated: 15 September 2017, 07:52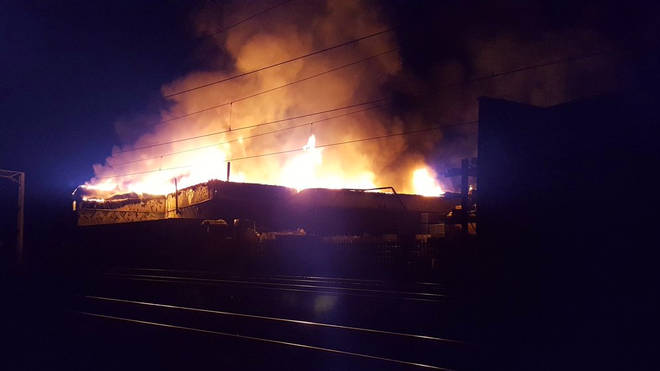 Commuters travelling to and from London Euston are facing disruption following a fire at a warehouse in northwest London.
- Latest Travel News: Live updates
It broke out in Harrow just before midnight and is affecting services on the West Coast Main Line as well as the London Overground.
Because the fire involved gas cylinders, it is not safe for trains to go on the line.
No services are currently running between Euston and Milton Keynes Central - the overground's also suspended between Euston and Watford Junction.
The train operator confirmed a much reduced service will run along the west coast mainline: "Services will start / terminate at Milton Keynes Central. No trains are able to run between Milton Keynes Central and Harrow & Wealdstone. It is hoped a shuttle service will be able to run between London Euston and Harrow & Wealdstone however this is yet to be confirmed."
More than 50 firefighters have spent the night tackling the flames and some homes nearby have been evacuated.
Station Manager Jason Jones, who was at the scene, said: "We had a very well developed fire which was extremely visible from quite a way out.
"There were propane cylinders involved so a hazard zone was set up as cylinders can explode when exposed to heat.
"The site is next to Headstone Lane train station and trains were stopped. Crews worked very hard through the night at this challenging incident to bring the fire under control."