Watch: How Distraction Thief Steals Phone In Busy Café
1 February 2017, 13:00 | Updated: 1 February 2017, 16:21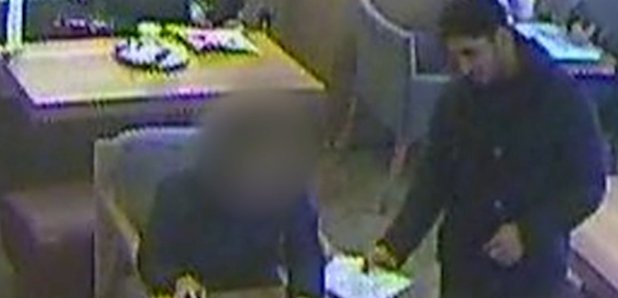 This video shows the latest scam being used by distraction thieves to steal mobile phones in public places like cafés.
The theft happened in a coffeee shop in Wilton Road as the victim used her laptop, with her phone resting on the table next to her.
The suspect approached her, with a piece of paper on display. He held the paper over her phone and as he briefly spoke to the woman, he slid his hand onto the table and took her phone - without her even noticing.
When she told him she wasn't interested, the man walked away, taking the phone with him.
It happened on 1st April 2015 at about 4.35pm.
The suspect is described as being a man of Mediterranean appearance, with short dark hair, wearing a dark coloured jacket and trousers.
The police have also reissued their tips for using your phone in public:
- Don't leave your phone unattended on a table or forgotten in a bag.

- On a night out, look out for each other's phones.

- If you need to use your phone, be aware of your surroundings. Try going hands free or stand away from the roadside close to a wall so no one can come up behind you.

- Don't text while you're walking, you won't notice potential thieves approaching.

- Your phone comes with a range of security features, such as keypad locks and remote data wiping. Make sure they are all activated to stop thieves from accessing your phone and personal data.

- Know how to identify your phone if it's stolen

- Find your IMEI number by dialling *#06# from your phone and keep a written note of it. If the phone is stolen, report it to the police and your mobile provider to stop it being used.

- Register your phone on http://www.immobilise.com to help police return recovered stolen property and combat the sale of stolen goods. Police recover more than 2500 items registered to the website on average every month. Never confront a thief or risk your own safety for the sake of your mobile device.