Londoners Face Rail Chaos In August As Major Stations Close
12 July 2017, 09:40 | Updated: 12 July 2017, 09:55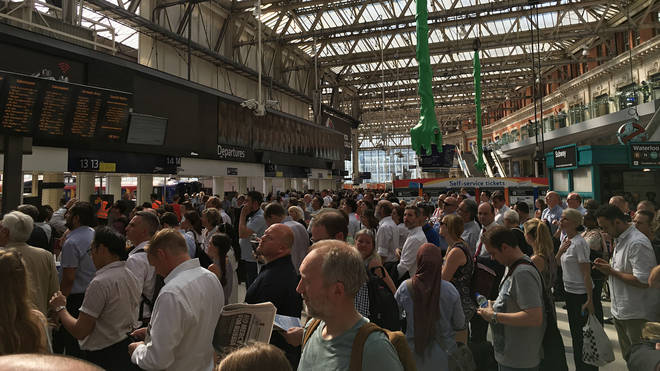 Londoners face severe disruption throughout August as most of the major railway stations close for the bank holiday weekend.
Network Rail will carry out the biggest weekend of engineering works it has ever planned, worth £133m.
London Waterloo is closing platforms 1-10 for most of August and there will be significant redutions to South West Train services.
Three other busy stations - London Bridge, Waterloo East and Charing Cross - will be closed for a week due to the rebuilding of the Thameslink service.
And London Euston will be closed for the Saturday and Sunday or the bank holiday weekend to make way for HS2 works.
Only King's Cross, St Pancras, Victoria and Marylebone will operate normally, although they are expected to be busier than usual.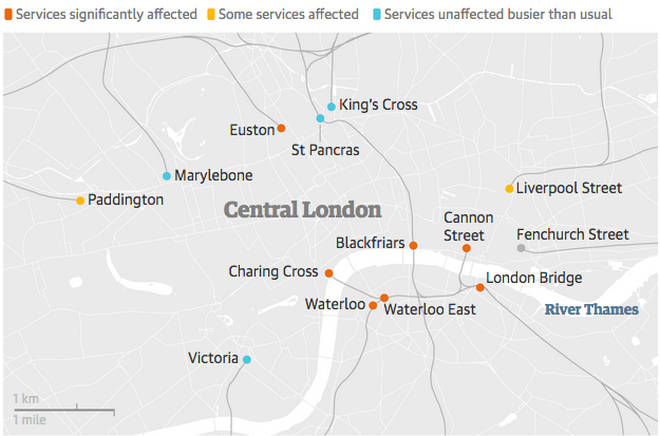 Full List Of Station Closures In London
London Waterloo: Half of platforms closed 5th - 28th August, with "significant reductions" to South West services.
London Bridge, Waterloo East and Charing Cross: No Southeastern services between 26th August and 2nd September, while London Bridge and the surrounding railway is rebuilt for Thameslink.
Cannon Street and Blackfriars: No Southeastern trains on 26th & 27th August.
London Euston: No trains at all on 26th & 27th August, due to enabling works for HS2.
London Liverpool Street: No trains to/from Shenfield/Barking on 27th & 28th August, due to work for the new Crossrail or Elizabeth line services.