Oxford Street: Car Collides With Bus & Shop
1 October 2016, 13:55 | Updated: 1 October 2016, 14:08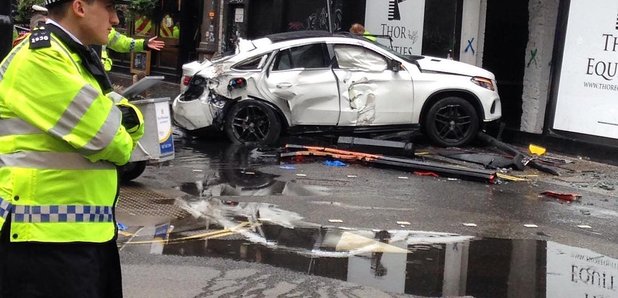 This was the scene of devastation that greeted Saturday morning shoppers on Oxford Street after a car collided with a bus before ramming into a shop.
Police say the incident happened at around 5am on Saturday morning when a car hit a bus before colliding with a shop in Oxford Street near the junction with Wells Street, W1.
Three people were taken to a central London hospital, two males who were in the car and woman who was on the bus.
Surprisingly, neither of the males sustained life-threatening injuries. The bus passenger was treated for minor injuries.
Another male in the car was uninjured, all three have been arrested.
Police said: "shortly before the collision, the car was seen at the location by officers in a marked police car. The car did not stop and made off."
"A short time later, it was involved in the collision. It was not being pursued."
Police said officers from the DPS and the IPCC have been informed as is procedure in such cases.