Westminster Attack: Eyewitness Describes Assailant Attacking Police At Parliament
22 March 2017, 16:03 | Updated: 22 March 2017, 17:47
Eyewitness Quentin Letts tells LBC of the moment he saw a police officer shot and stabbed outside Parliament.
Quentin Letts, a parliamentary sketchwriter for the Daily Mail, told Shelagh Fogarty he saw the incident outside the Houses of Commons.
He said: "I was in my office overlooking New Palace Yard. This is the area where the shooting happened and I saw the shooting happen and I saw some of the stabbing or what seems to have been stabbing going on and then I saw I'm afraid what looks like fruitless attempts to save a man who'd fallen, who I think was one of the policemen.
"He ran in through the open gates. These are the gates where people drive in and out of the Parliamentary Estate and they are manned by uniformed policeman. The gates were open and this man ran through.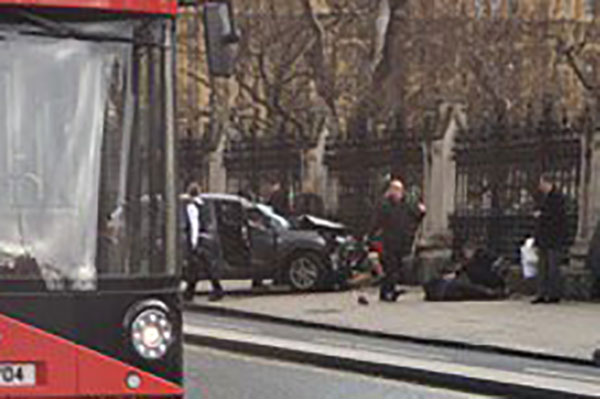 "He was wearing black clothes, he didn't have much hair, he was quite think set. And he set about one of the policeman with what looked like a stick. The policeman fell over on the ground and it was pretty horrible to watch.
"Then having done that, he disengaged and ran towards the House of Commons entrance used by MPs and he got about 20 yards or so when two plainclothes guys with guns shot him.
"And I have to say that they were very quick to run out of wherever they ran out of and ran towards him and they did the shooting pose with their legs straight and one leg in front of the other. And they shouted something at him and he appeared to ignore it and kept running towards them and then two or three shots and he fell instantly."