CCTV: Mobility Scooter Robbers Make Off With Cash Till
22 September 2016, 13:15 | Updated: 22 September 2016, 13:16
Police have released footage of some brazen thieves using a metal bar to break into a chemist and stealing a cash till before one of them fled on a mobility scooter with the money.
Two pharmacies in the area have reportedly been targeted by the same gang: Paks Cosmetic Centre and Kry BA Chemists, both in Heathway in Dagenham.
The footage shows two men approaching the shutters of Kry BA, prying them open with a metal bar before they enter the premises and steal a cash till. The till is handed to another member of the gang who is waiting nearby on a mobility scooter. He then speeds away with the till and its contents.
Paks Cosmetic Centre was raided on 10th August, with Kry BA targeted three months earlier - 25th May.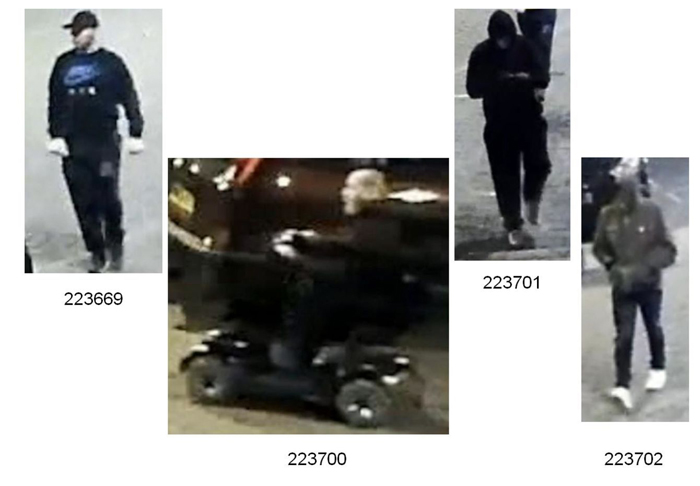 'Suspect 1' [image ref 223669] is described as a white man of medium build with a dark beard wearing a black cap, blue top with writing, black tracksuit bottoms, black trainers and light coloured gloves.

'Suspect 2' [image ref 223700] is described as a white man with a bald head, wearing dark clothing and driving a dark coloured mobility scooter.

'Suspect 3' [image ref 223701] is described as a white man wearing a dark blue hooded top and white trainers.

'Suspect 4' [image ref 223702] is described as a white man wearing a dark grey hooded top, blue jeans and white trainers.