23 Years For Rapper Who Tortured, Beat And Raped Woman
10 January 2017, 13:08 | Updated: 10 January 2017, 14:10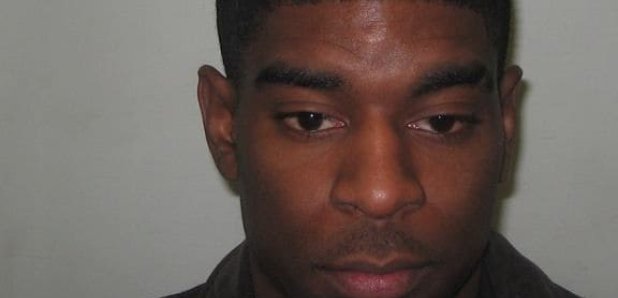 A London man who subjected his victim to a truly horrific attack after imprisoning her in a Newham apartment has been jailed - and details of his victim's ordeal made public.
(Caution: disturbing details follow)
Courtney Hutchinson raped the woman, tortured her with a burning iron and forcefed her during the shocking attack over three days, before she managed to flee naked into the street.
Hutchinson began his savage attack the moment the woman arrived at the flat in E16 in February 2016, punching and kicking her.
During the terrible ordeal, he pushed the legs of a chair into the woman's stomach, dragged her around the flat by her hair and whipped her with a phone charger cable. He pressed a heated iron onto skin before holding it above her face and demanded her to burn herself with the iron. Throughout, she was pleading with him to let her go.
Hutchinson told the victim she needed to be punished and made her put her hands behind her back while he punched her in the face and throat.
The force of his attack left the woman with 40 injuries, including a fractured eye socket, broken nose, dislocated shoulder, stab wound to the hand and severe burns. Keeping in the flat another night, Hutchinson told the victim that she would die the next day.
He counted down the hours, telling the victim to call her mother and say goodbye.
The following day the attacker continued his assault, also forcing the victim into a hot shower and stamping on her burns. He filmed her, making her state on camera that she was a bad person. Throughout the entire ordeal he kept her naked while he controlled her every movement. Police says she "truly believed she would die."

When the victim finally saw an opportunity to escape, she fled naked into the street. Hutchinson, also naked, ran after her, saying "I have got you now." Luckily a member of the public didn't believe Hutchinson's claims that she was his wife and called the police.
The victim was taken to the Royal London Hospital and continues to receive treatment for the injuries Hutchinson inflicted.
After his sentence was handed down, Detective Sergeant Jimi Tele welcomed the severity of it, saying: "The victim and the public can be safe in knowing that Hutchinson no longer poses a risk to them as he begins a significant term of imprisonment.