Police Hunt Shoplifting Gang Responsible For 27 Robberies In East London
23 December 2016, 07:54 | Updated: 23 December 2016, 08:23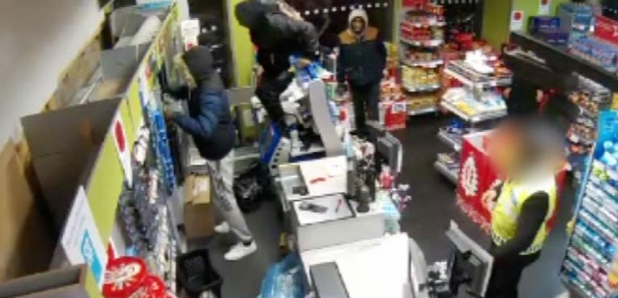 This is the moment that a prolific shoplifting gang swarmed into a Co-op, stealing £1,500 of cigarettes and alcohol.
Police released CCTV footage of the incident in an attempt to identify the group, who are believed to be responsible for 27 robberies in Stepney, east London.
In the video, three of the gang leapt over the counter at the Co-op in Middlesex Street, filling bags with as much tobacco and alcohol as they could.
The store's security guard was left unable to stop them during the robbery on Friday 9th December.

Detective Sergeant Edd Ng said: "This group of men appear to regularly target local premises which stock tobacco and alcoholic drinks.
"We have been speaking to the owners of premises across the local area to provide them with crime prevention advice.
"Anyone who recognises these men or has any information that could assist the investigation is asked to contact police."
Anyone with information or any witnesses are urged to call police on 101 or Crimestoppers anonymously on 0800 555 111.
A 27-year-old man has been arrested and charged as part of this investigation.