These Men Completely Ransacked A Co-Op In London
24 December 2016, 07:58 | Updated: 4 April 2017, 10:15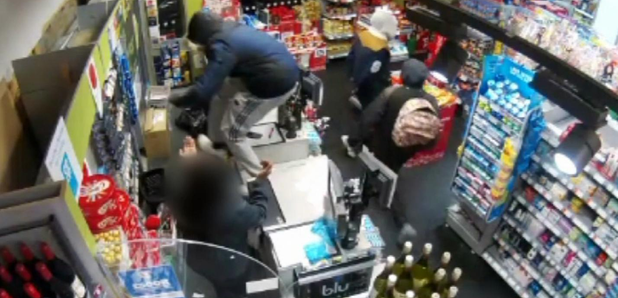 Four men are being sought by police after stealing more than £1,500 of alcohol and tobacco in Tower Hamlets.
Video removed for legal reasons
The incident is the latest in a series of commercial thefts across the Stepney area.
The CCTV footage released by Metropolitan Police shows the men entering the Co-op in Middlesex Street, E2, at about 10.50pm on December 9.
Three of the men then jumped over the counter before the group made off with the goods.
Police believe these four men are responsible for 27 counts of shoplifting, burglaries and robberies at various venues since October. and are appealing for information about the identification of these men.

The man on the far left is described as an Asian man in his late 20s, 5ft 11ins tall, wearing a black jacket, dark jeans and black trainers.
The second man from the left is described as a black man in his late 20s, 5ft 11ins tall, wearing a black jacket, dark jeans, grey trainers and coloured rucksack.
Second from the right is a black man described as being in his mid 20s, 6ft tall, wearing a dark blue jacket with brown shoulders, a grey hooded top, dark blue jeans and grey trainers.
The last man is described as a black man in his mid 20s, 5ft 11ins tall wearing a silver coloured jacket with a motif, dark blue hooded top, blue jeans and dark shoulder bag.
Det Serg Edd Ng, the investigating officer for Tower Hamlets, said: "This group of men appear to regularly target local premises which stock tobacco and alcoholic drinks.
"We have been speaking to the owners of premises across the local area to provide them with crime prevention advice.
"Anyone who recognises these men or has any information that could assist the investigation is asked to contact police."
A 27-year-old has been arrested and charged as part of this investigation.
Anyone with information is asked to contact police via the non-emergency number 101 or call Crimestoppers anonymously on 0800 555 111.