YouTubers Sneak Into Canary Wharf And Climb To The Top
21 February 2017, 08:43 | Updated: 21 February 2017, 13:17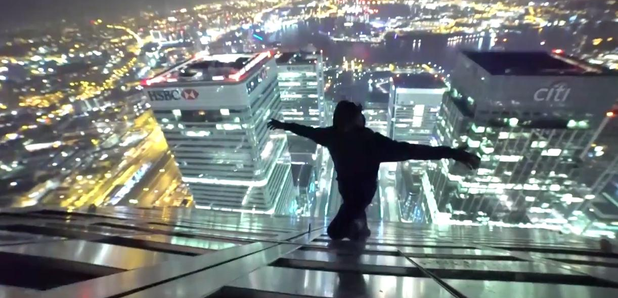 Security at one of London's most iconic buildings is being questioned after two youngsters broke into Canary Wharf and climbed to the very top.
YouTubers Night Scape jumped over the security barriers at One Canada Square, the UK's second tallest building, without anyone noticing - even though one set off an alarm.
They then climbed to the very top, even touching the tip of the pyramid at the summit.
The duo can even be seen hanging off the edge of the building, 235metres in the air.
At a time when security is at the forefront of everyone's minds in London, questions have been asked about how two people with rucksacks were able to bypass security quite so easily at one of the capital's best-known buildings.
A Canary Wharf Group spokesperson said: "We are actively investigating unauthorised entry into One Canada Square, on the Canary Wharf Estate.
"Security is taken extremely seriously at Canary Wharf. We invest heavily in our security and review the processes on a regular basis. Current arrangements have been tightened, while our security procedures are being reviewed and an internal investigation conducted.
"We are working closely with the Metropolitan Police on this matter. Our priority is to ensure the safety of our tenants, employees and those visiting the Estate."
The Met Police told LBC: "The Metropolitan Police Service is aware of footage online depicting people gaining unauthorised access One Canada Square. We will liaise with the building operators to assess whether any offences have been committed.
"It is unknown when the footage was taken."
Night Scape have a history of similar stunts, having previously broken into West Ham's new London Stadium.