WATCH: Bad Santa Detained By Police
16 December 2016, 10:35 | Updated: 16 December 2016, 11:03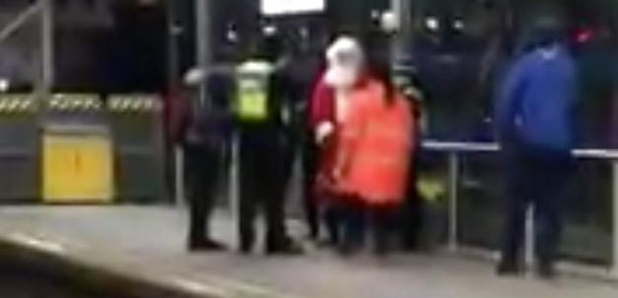 This is the remarkable scene that greeted residents of East London as a Santa complete with a bag of presents was detained on a train platform.
The video posted by Twitter user @jennywhojenny shows a mob of police and staff surrounding the dejected looking Santa Clause.
The reason of his detention was unclear at the time of writing. One Twitter user suggested he didn't have a ticket.
The video has sparked a big response online with many taking a humorous pop at the incident.
Hi @metpoliceuk, please can you confirm the safety of Santa - it is 10 days before Christmas, think of the children.

— Good King Jen-ceslas (@jennywhojenny) December 15, 2016