EXCLUSIVE: Sadiq Khan's Letter To Attorney General Over Zombie Knife Sentence
29 November 2018, 13:20
This is the letter the Mayor of London has written to the Attorney General asking him to review the suspended sentence for Joshua Gardner.
The 18-year-old avoided jail this week, despite being filmed attacking a car in Croydon with a zombie knife.
Earlier this week, the Mayor told LBC he would be writing to the Attorney General to ask him to review the overly-lenient sentence.
Today, LBC can reveal what is in that letter. He writes: "I am requesting you review the sentence handed down to Joshua Gardner of Croydon. I, along with many others, believe this is unduly lenient and does not send the right message to the public that we are bearing down on violent offenders.
"If Londoners see a situation where somebody branding a zombie knife, like Joshua Gardner, is given a suspended sentence, it risks undermining public confidence in our criminal justice system and fails to act as a deterrent to others intent on committing violent crime.
"I do not lightly criticise judges - they see all the evidence and I don't. But, in this case, I believe a review of the sentence is appropriate. We will not be able to tackle rising violence on our streets without effective and proportionate punishments for offenders."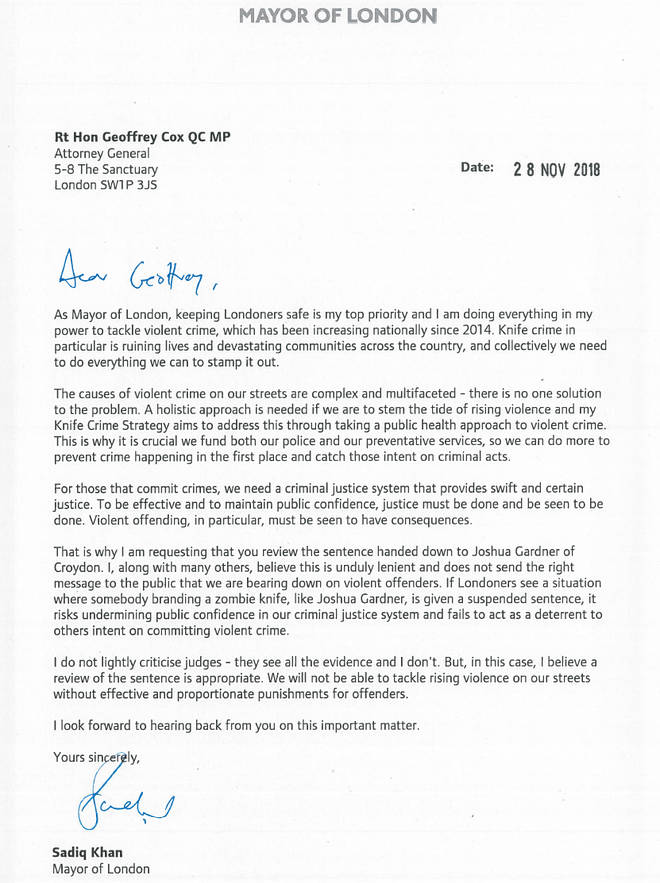 The Attorney General has confirmed the sentence will be reviewed, saying: "We have received a request under the Unduly Lenient Sentence scheme relating to Joshua Gardner. Only one request is required for us to consider whether a sentence is eligible for review."