HS2 Euston Hub May Not Be Viable, LBC Discovers
12 December 2016, 09:27 | Updated: 12 December 2016, 12:20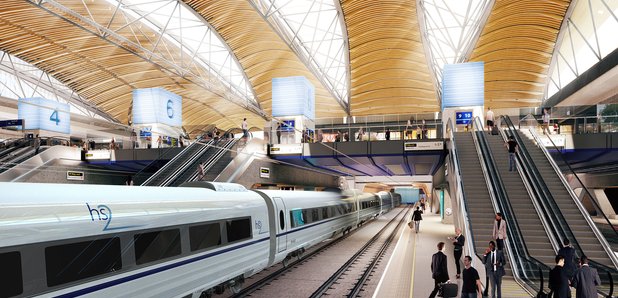 The time saved by travelling on HS2 could be wasted waiting for a tube at Euston, a the Deputy Mayor of London for Transport has told LBC.
Euston needs a major upgrade to be the main terminal for the high-speed train line from Birmingham - but that will only happen with help from the Crossrail 2 project, a new line running north to south through London.
But LBC has discovered that the Government wants Transport for London to raise at least half the money for Crossrail 2.
And if that project falters, HS2 into Euston becomes completely unviable.
LBC's Political Editor Theo Usherwood reports: "This is a story of two railways. The first - the £56 billion High Speed Rail 2 line from London to Birmingham. And then the Crossrail 2 project running north to south through the capital.
"The two are due to meet at a brand new interchange at a redeveloped Euston.
"But, as LBC has discovered, the Government wants TfL to raise at least half the cash for Crossrail 2. And from those transport bigwigs I've been speaking to, that spells serious trouble for HS2 at Euston."
Val Shawcross, the Deputy Mayor of London for Transport, told LBC that if HS2 launches before Crossrail 2 - as expected - the time saved on the quicker journey will be wasted waiting for a tube instead.
She said: "If High Speed 2 arrives at Euston before Crossrail 2 opens, it is very likely according to the figures that you would have to wait to let four or five tube trains pass before you can move on from Euston into the rest of London.
"There is a very serious bottleneck problem that would arise."
Mayor of London Sadiq Khan has said the Government should look at turning a new HS2 station at Old Oak Common into a temporary terminus.
A Department for Transport spokesman has told me: "HS2 will become the backbone of our national rail network and help us build an economy that works for all.
"Our plans are based on serving up to 18,000 people per hour during peak times at Euston and improvements include a larger ticket hall and additional escalators, will be made to the Underground station to cope."
Topics: HS2 | London News