London Breaches Annual Air Pollution Limit For 2017 Already
6 January 2017, 15:17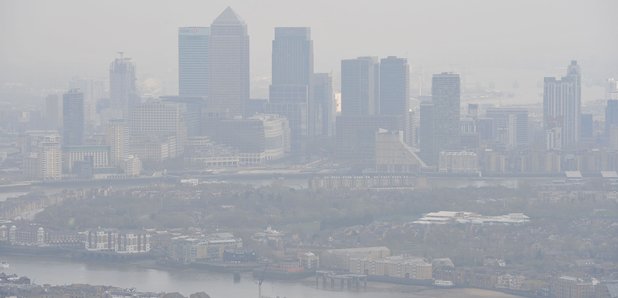 London has breached its annual air pollution limits five days into 2017 - that's three days earlier than last year.
Hourly levels of toxic nitrogen dioxide (NO 2) cannot be more than 200 micrograms per cubic metre (µg/m3) more than 18 times in a year, but this limit was exceeded on Brixton Road in Lambeth yesterday evening, according to data from London Air project from Kings College London.
This is not the only pollution hotspot in London; Oxford Street, Putney High Street, the Strand, and Kings Road in Chelsea are also set to break the limit, according to the data.
Dr Gary Fuller from King's College London said: "While public attention will focus on today's result from Brixton Road, it is important to note that the majority of main roads in London regularly breach legal values for nitrogen dioxide."
The toxic gas in densely populated areas is mostly attributed to diesel vehicles, and London is one of the most polluted cities in the EU.
A Kings College London study in 2015 found there were 5,900 deaths a year across the capital associated with NO 2 long term exposure.
The study also found that fine particulates known as PM2.5s are also associated with pollution, and consequently linked to the death of more than 4,267 Londoners.
London mayor Sadiq Khan vowed in December to double the funding to tackle the problem to £875 million over five years.
He said at the time: "With nearly 10,000 Londoners dying early every year due to air pollution, tackling poor air quality is a public health emergency that requires bold action. I want London to be a world leader in how we respond to the challenge of cleaning up our air."
The Mayor's office announced today plans for 10 new 'Low Emission Bus Zones' across London in 2017, with a host of 'greener' buses set to be deployed on some of London's most polluted routes.
Sadiq Khan said of the plans: "Tackling London's filthy air is one of my main priorities and I am delighted to be delivering on that commitment by introducing these new Low Emission Bus Zones. Removing the oldest, dirtiest buses from our streets and delivering Low Emission Bus Zones will make a big contribution to tackling transport pollution.
"Safeguarding the health of Londoners is vital and I'm doing everything in my power both to transform London's bus fleet and to target areas with the worst pollution."
Putney High Street, Brixton to Streatham, and Wandsworth to St John's Hill are among the 12 Low Emission Zones announced today.