Flaming Car Obliterates Harrow Shop Front
2 July 2016, 10:40 | Updated: 11 August 2016, 09:53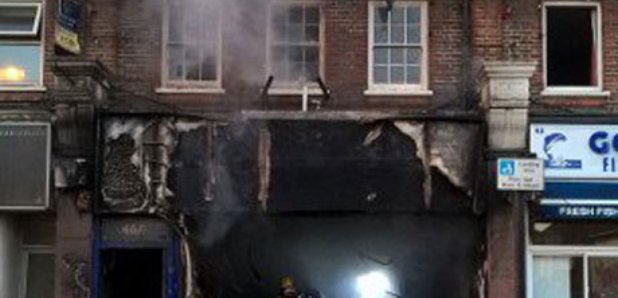 This was the scene of devastation in Harrow this morning after a car crashed into a shop front before bursting into flames.
The incident took place early on Saturday morning on Station Road in Harrow, and images shared by emergency services show part often building has been completely destroyed.
The Fire Brigade says the whole of the ground floor has been damaged by the blaze and the fire also damaged offices on the first floor of the block. Remarkably no-one is understood to have been injured in the blaze.
Station Road is closed to the junction of Pinner Road and motorists are being asking to avoid the area if possible. There is pedestrian access to North Harrow underground station.
The Brigade was called at 0336 and the fire was under control by 0616. Eight fire engines and 58 firefighters and officers from Northolt, Harrow, Stanmore and Wembley fire stations were at the scene.