Train Hits Landslide And Derails Near Watford Junction
16 September 2016, 10:21 | Updated: 19 September 2016, 10:26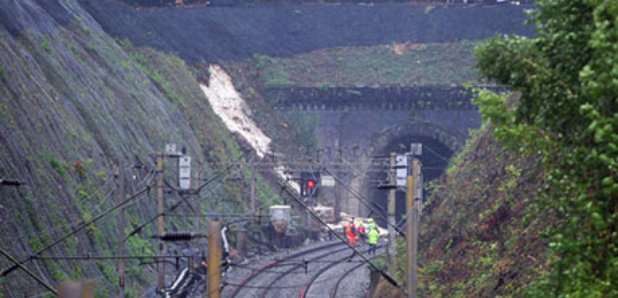 A train has derailed near Watford Junction causing major disruption to services in and out of London Euston station.
The derailment happened between Watford Junction and King's Langley stations. Disruption is expected for most of the day.

Paramedics said they treated two people for minor injuries.

A passenger on the train posted on Facebook: "Everyone is fine on the derailed 06:47 train but we are in a tunnel with limited signal.

"We hit a landslide and derailed clipping an oncoming train. Emergency services have arrived to get us off but are assessing hat to do first. Repeat. Everyone is fine."
Still stuck in a tunnel after my train derailed and hit another train. Standard Friday morning #londonmidland pic.twitter.com/Awxw22ollt

— James Woolford (@jaycpfc) September 16, 2016
The passengers have now been moved to the rear four carriages on the train as emergency services work to get them to safety.
Mike was on the first carriage of the train which derailed this morning, trapping people in a tunnel for hours @LBC pic.twitter.com/eYloDSVSGu

— Rachael Venables (@rachaelvenables) September 16, 2016
The British Transport Police said officers were called to reports of a landslide at the Hunton Bridge Tunnel near Watford.

They are currently working with fire and ambulance services at the scene.

The Hunton Bridge tunnel - between Watford and King's Langley - is right next to the Warner Bros studio tour, featuring the Harry Potter sets.
A spokesman for London Midland told the Press Association: "There is a train derailment at Watford Junction - it is the 6.19 service from Milton Keynes to London Euston.

"It happened near the tunnels at Watford Junction station - there are no reports of any injuries."