WATCH: Met Investigates Driver Confrontation
18 September 2016, 17:00 | Updated: 18 September 2016, 17:24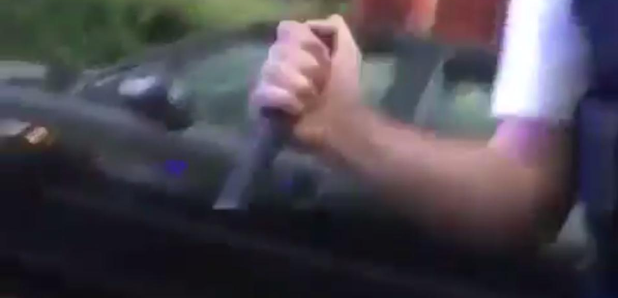 Met Police have confirmed they're now investigating shock footage that showed an officer smashing the windscreen of a car in Camden.
What gives the right for this officer to damage this car @metpoliceuk who is he? pic.twitter.com/juti0GdvMH

— Mega SoSolid #S9 (@OFFICIALSOSOLID) 17 September 2016
The clip has been shared thousands of times on social media and was shot on Friday evening at Weedington Road in NW5.
In the footage, the policeman reportedly shouts at the driver to "get out of the car", apparently having been told over radio that the driver is not qualified.
Initially he uses his hands to try to break the driver's window but when that proves unsuccessful, he then puls a baton out and uses it to smash the windscreen.
Next he takes a knife out and cuts the windscreen away.
During this the driver can be heard insisting: "I've got a licence and insurance." Reports suggest that when the driver exited the car, one of the officers recognised him.
In a statement on Sumday afternoon evening, the Met confirmed no-one had been arrested, saying: the car's driver has been spoken to by officers from the Directorate of Professional Standards.
"The officers involved in the incident have been identified and have been placed on restricted duties."
"Although the investigation is in its early stages, it has been established that the officers stopped the vehicle based on information relating to a man who is of interest to police. On conclusion of the incident the officers identified that the driver was not the man in question and he was not arrested," police say.
"The investigation will examine the officer's use of force during the incident."
The video went viral after being shared online by Mega, a member of the rap group So Solid Crew.
LBC reporter Rachael Venables tracked a vehicle that residents say was involved in the incident.
The images show considerable damage to the front and side of the car. Take a look for yourself below.
Neighbours in #Camden say this is the car smashed in by a police officer on Friday. The Met are investigating @LBC pic.twitter.com/SzcQWslLXa

— Rachael Venables (@rachaelvenables) September 18, 2016