Burst Watermain Leaves Islington Homes Under TWO METRES Of Water
5 December 2016, 08:52 | Updated: 5 December 2016, 08:54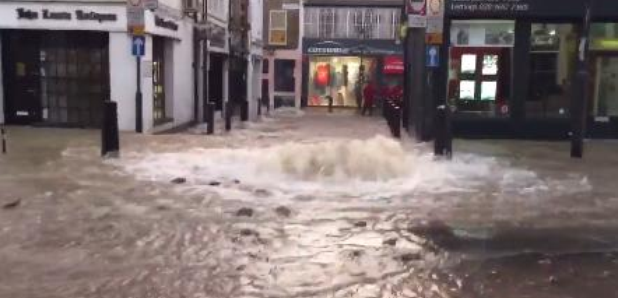 Around 100 people have had to leave their homes and businesses in north London after a burst water main caused flooding.
It happened on Upper Street in Islington early this morning.
Two-feet of water flooded the area around Camden Passage, including the basements of boutique shops, restaurants and homes.
Charlton Place and Colebrooke Row were also affected, forcing evacuated locals to go to a local pub.
The London Fire Brigade said: "The Brigade has a range of equipment which can be used to help rescue people trapped by flood water, pump water away and protect properties.
"Some of the Brigade's fire rescue units are equipped with water rescue equipment such as inflatable rescue boats. The Brigade also has a number of high volume pumps stationed at strategic locations across the capital. These can be used to pump large amounts of water away from flooded areas."