Van Driver Leaves Pedestrian For Dead In Shocking Hit-And-Run
20 November 2017, 13:59 | Updated: 17 January 2018, 16:34
Shocking CCTV has surfaced showing the moment a van left a pedestrian for dead following a shocking hit-and-run incident.
The victim, in his 60s, was more than halfway across the busy north London junction when he was knocked down by the oncoming truck.
The driver proceeds to drive off after slamming into the victim in Stamford Hill on Saturday, leaving him lifeless in the middle of the road.
As shocked onlookers run to the man's aid, the driver reverses back and pulls alongside the victim, but just seconds later he drives off again.
One witness said the victim was hit by the truck's wing mirror before hitting his head on the road.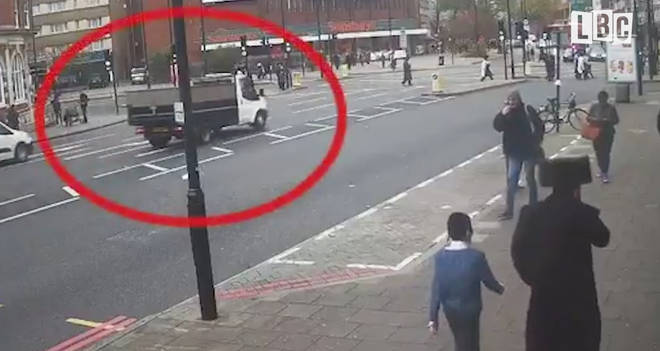 He told the Evening Standard: "The collision happened suddenly and it was so bad that the man's head bashed against the road.
"The man in the truck reversed and saw what he did then did a U-turn in front of me before driving off. One of his side mirrors had fallen off and I think that's what hit the man."
A Met police spokesman said officers had been called to the scene of a van colliding with a male pedestrian at around 11:35am on November 18.
The spokesman added: "The man - aged in his 60s - was taken to hospital. His condition was described as not life-threatening or life-changing.
"The driver of the van did not stop at the scene. Inquiries continue to identify the driver and establish the full circumstances.
"There has been no arrest."