VIDEO: Pro-Palestinian Protestors Shut Down Event With Israeli Speaker At UCL
28 October 2016, 16:07 | Updated: 28 October 2016, 17:31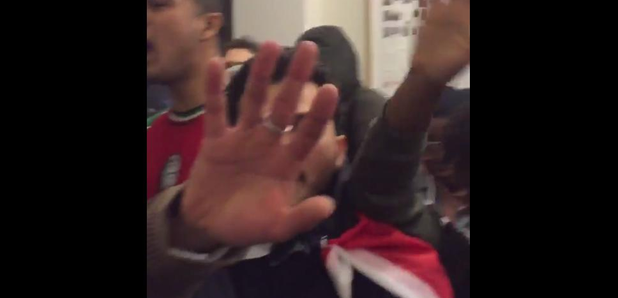 Students say they fled to a room after a large and intimidating crowd shut down an event at the university that featured an Israeli speaker.
The footage was taken at the central London campus on Thursday night.
Israeli writer Hen Mazzig was at university to give a talk when pro-Palestine protestors turned up. This led to the people who attended the talk locking themselves in a room for protection until the protestors got in through the windows.
I don't know how @HenMazzig was able to keep his self control??
I'm shocked!@Ostrov_A @michaeldickson @Daroff @ucl @StandWithUs @BnaiBrith pic.twitter.com/8hfQrl1JCQ

— CrassusDT -C (@CrassusDT) October 28, 2016
In one video, taken after the police had been called, the intimidating crowd chant "shame" and "shame on you" as the students who had been attending the event walked past.
(Video: Twitter / @Elliotmiller94)
The pro-Palestine protestors turned up in response to the appearance of Israeli writer Hen Mazzig who was previously a member of the Israeli Defence Force (IDF).
Speaking to Iain Dale this afternoon, Hen Mazzig said the opposition to him speaking at UCL had been building for some time and the event was actually cancelled a few days before it was due to go ahead before then being reinstated. The protestors also attacked him online, with Mazzig saying he had "never been defamed like that before".
"I was called a killer, participating in a massacre, crazy things that I have never done in my life."
The protestors surrounded the room where Hen was giving his talk and banged on the windows and doors. He said it was unlike anything he had experienced before.
"It was such a stressful situation. I've faced stressful situations in my life, in my military service, but it was the first time I've faced such hatred and such fanaticism."
Eventually the police got Hen out of the building. They dressed him in a police coat and told him to run and not stop until he was safe.
"I was running with them and I was really fearing for my life."
Watch the full interview:
Student's rights national organiser Elliot Miller, who posted videos of the event online, told LBC that the opposition to Israeli focused events had worsened over recent years.
"At present, Jews all too often find they have no safe space on campus, and when confronted with aggressive and violent protesters, universities often fail to adequately provide the necessary security."
The organisers of the event remain undeterred though and insist they will organise more events in the future.