PETA Accused Of Sexism As Bikini-Clad Women Serve Vegan Cream At Wimbledon
4 July 2017, 17:01 | Updated: 4 July 2017, 17:27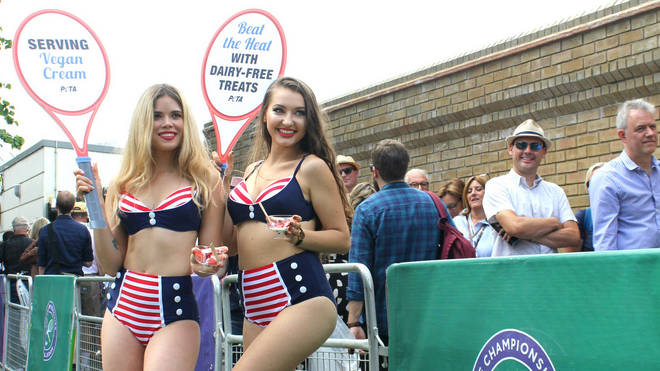 Animal rights charity PETA has been accused of "blatant sexism" after sending two bikini-clad women to serve vegan cream at Wimbledon.
Social media users criticised the pro-vegan charity after their marketing stunt saw activists dish out non-dairy cream to queuing tennis fans.
Dressed in red, white and blue bikinis the women held signs which read "beat the heat with dairy-free treats" and "serving vegan cream".
Although strawberries and cream are tradition at the All England Lawn Tennis Club, Wimbledon says the daring move broke marketing rules.
The act did not go down too well on Twitter either as floods of criticism was directed at PETA's official account.
One user wrote: "What a ridiculous campaign ...is it the 1970s and we have gone back in time?"
Wait, are we back in the 1970s?

— katie (@katiemoffat) July 4, 2017
Just canceled my membership. I'm sick of you exploiting womens' bodies in the name of being vegan. You need to change your methods.

— Charlie Phillips (@charliechar) July 4, 2017
Another said: "I fail to see what benefit some seventies style sexism has for animal rights. Has this approach ever actually convinced anyone to go vegan?"
The charity, however, defended the stunt, saying activists choose how they get people's attention and women are free to use both their minds and bodies.
Sonul Badiani-Hamment told LBC: "There's nothing sexist about wearing a bikini, it's actually sexist to tell people to cover up."