Video Of Crazy Cyclist Climbing Over Level Crossing Goes Viral
12 May 2017, 13:40 | Updated: 12 May 2017, 15:27
A video showing an impatient cyclist almost being hit by a train as he climbed over a level crossing barrier has gone viral.
WARNING: Video contains strong language
The clip shows a man frustrated by the closed barriers outside North Sheen station in South West London.
Bystanders pleaded with the cyclist to stop, but he screamed "I don't f****** care mate" before carrying on climbing over the barriers.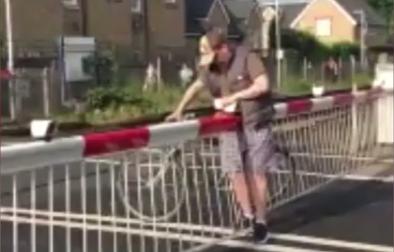 He managed to stop a split-second before a Waterloo-bound train rushed past.
As the South West train blared its horn, the man threw up his arm in anger at the driver.
The British Transport Police have confirmed they are investigating the incident.