Travel Chaos And More Floods For London
23 June 2016, 06:51 | Updated: 10 August 2016, 15:30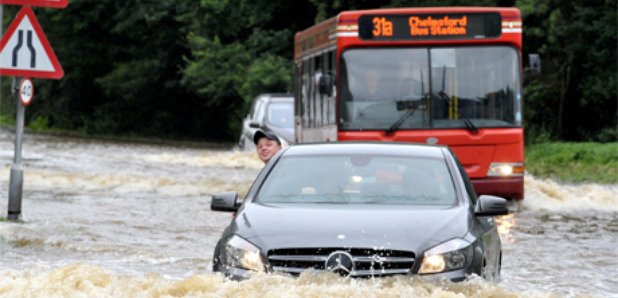 Heavy rains across London and the South East are set to continue this evening, causing more traffic and travel chaos.
Waterloo Station is packed full of people with almost every train delayed or cancelled:
The state of it right now.. #Waterloo pic.twitter.com/fUMZNqWzQH

— James (@Bardinski) June 23, 2016
This driving inspector in Writtle, Essex, had to swap places with his pupil to navigate the flooded road conditions:
The scenes in Chemlsford show the traffic chaos that confronted drivers this afternoon but parts of London were just as badly hit:
A second round of torrential rain and flooding is expected to cause chaos during the evening rush hour after parts of the South East and London endured a deluge of water this morning.

Train companies are advising passengers to set off early on their journeys home as more lightning and thunderstorms are predicted.

Red "immediate action" warnings are in place for areas of Essex and the capital after around a month's rain fell in a few hours.
Heavy rainfall overnight has lead to us having to move a polling station in Chessington pic.twitter.com/1n6AJhE0fw

— Kingston Council (@RBKingston) June 23, 2016
In Wandsworth, Amoury Way (SW18) is flooded. Please approach with caution. pic.twitter.com/4rjusN3OQv

— TfL Traffic News (@TfLTrafficNews) June 23, 2016
London Fire Brigade said they'd been inundated with calls and asked people to only phone 999 in case of a risk to life.
Another picture of the heavy flooding currently blocking the lines at #ManorPark pic.twitter.com/HRt53BThkP

— Greater Anglia (@greateranglia) June 23, 2016
@LBC road closures latchmere road junction with battersea bridge road pic.twitter.com/cvSqqW67DR

— Shaggie Don (@CourtneyRainfor) June 23, 2016
@LBC A13 bad barking...avoid pic.twitter.com/nw26kYqEos

— will patterson (@willpaticake) June 23, 2016
@lbc barking under water #flood #flooding #london #Barking pic.twitter.com/i3L3gdPKlw

— Lou (@louise17march) June 23, 2016