'No One Eats Alone': Muslim-Owned Restaurant In London Offers Free Christmas Meals
8 December 2016, 07:29 | Updated: 8 December 2016, 16:44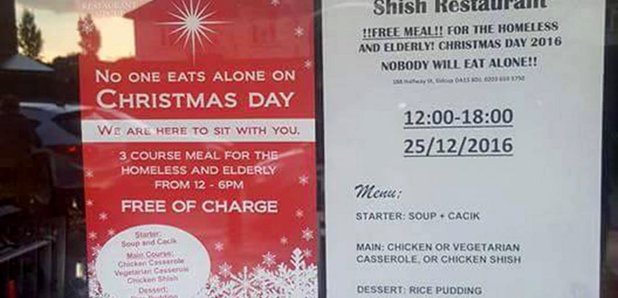 A restaurant in London is offering a free three-course meal to homeless and elderly people so that they are not alone on Christmas Day.
The gesture by Muslim-owned Shish Restaurant in Sidcup has been hailed as "heartwarmingly brilliant" and "selfless".
Shish released a poster reading: "No one eats alone on a Christmas Day. We are here to sit with you."
November 18, 2016
The three-course meal, offered free to any homeless or elderly person on Christmas Day, will consist of soup and Cacik to start, chicken casserole, vegetable casserole or chicken shish as a main course, and rice pudding for dessert.
Users on social media hailed Shish's plan.
@shishsidcup that's a wonderful thing to do, the world needs more of you

— The chosen 1 (@darren_dazmav) December 7, 2016
@shishsidcup Wow! You guys rock! What a lovely selfless act. You are a credit to humanity :)

— KB Recruitment Ltd (@knightbenton) December 5, 2016
@shishsidcup What a beautiful soul. My faith in humanity was restored by your heartwarming story today. So I thank you. You're amazing.

— TOMO ;) (@tomoko_nishioka) December 7, 2016