Terrifying Footage Shows Road Rage Cyclist Pull Huge Knife On Driver
1 June 2018, 08:09 | Updated: 5 June 2018, 11:05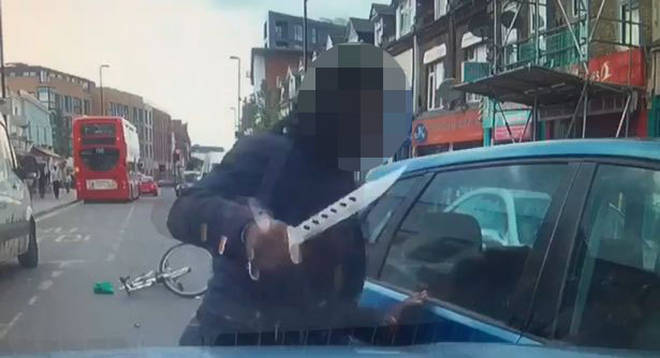 Video of incident removed for legal reasons
Terrifying footage has emerged of a furious cyclist pulling a knife on a driver after almost being knocked off his bike.
The incident is believed to have happened on London Road in Croydon on Wednesday 30th May.
The video, caught on the dashcam of another motorist, shows the cyclist stop next to the blue Volkswagen, which is parked on the side of the road.
The driver then pulls out sharply, forcing the cyclist to jump off his bike. As he tries to drive off the VW then crashes into the back of another car in traffic.
The man on the bike then pulls out a huge zombie knife and attacks the car, kicking it and trying to use the knife to smash the windows.
As the attacker goes to the passenger side of the car to try to get in, the driver gets out and sprints away, leaving his car in the middle of the road.
The Met Police say no arrests have been made over the incident.
If you witnessed the incident or know the man with the knife, please call police on 101 or speak anonymously to Crimestoppers.