Two Men Fight Off Nunchuck-Wielding Robbers In Croydon
27 January 2017, 08:00 | Updated: 27 January 2017, 08:03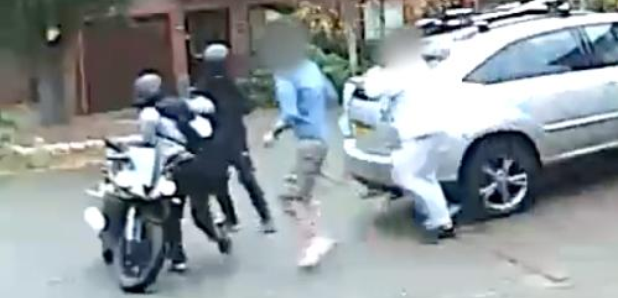 This is the amazing moment two men fought off nunchuck-wielding robbers who were trying to steal their motorbike.
A CCTV camera caught two robbers wearing balaclavas attempting to steal a man's three-wheeled motorbike. The 46-year-old owner stormed on to the street carrying a pair of nunchucks, but one of the suspects took them off him and started to attack him.
But another neighbour came out to help the owner and the robbers scarpered on foot, leaving behind the stolen motorbike they had arrived on.
The incident happened on 10th December last year in Arnull's Road, Croydon.
Suspect 1 was wearing a dark coloured jacket with a red logo on the back, black trousers with a blue line down the side, black trainers with white soles and gloves.
Suspect 2 was wearing a dark jacket with grey at the top, dark trousers, black trainers with white soles and a helmet with a Nike tick on the back.
Detective Constable Ania Casey said: "If the owner had not locked his motorbike with a heavy chain, his bike may have been taken in seconds. Those extra minutes were sufficient enough to alert the owner and his neighbours to deter the two suspects.
"I would urge anyone with information or who witnessed the incident to call officers via 101 or Crimestoppers anonymously on 0800 555 111."