Have-A-Go Hero Stops Moped Thieves In Busy South London High Street
18 July 2017, 14:54 | Updated: 18 July 2017, 15:04
This is the tense moment a brave passer-by intervened to stop a masked thug stealing a man's scooter in a busy London street.
Video has emerged online of the incident, which shows the attacker throwing the victim to the floor before jumping on to his bike.
The yob then attempts to flee the scene in Penge, south east London but comes unstuck when the have-a-go hero steps in.
The fearless member of the public grabs the front of the scooter after the victim can be heard shouting "he's got my bike!"
As a struggle pursues, the suspect jumps on to the back of motor bike and takes off empty handed.
The video has been shared over 45,000 times after it was posted on to Facebook on Monday afternoon.
A JustGiving page has been set up to pay for damages to the victim's bike, who is said to be in A&E with a broken foot.
The Met Police confirmed it is now on the hunt for two men who rode off from the scene.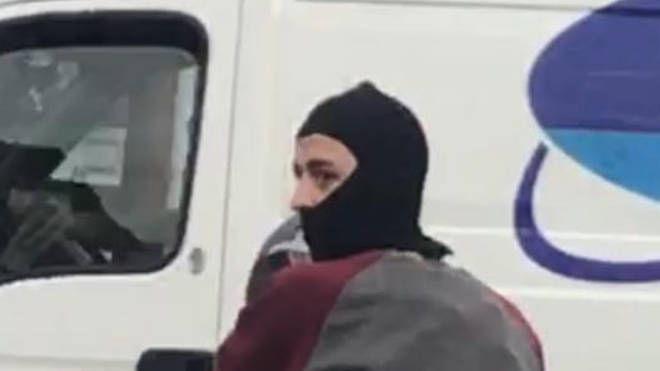 A spokesman told LBC: "The male victim was riding his scooter when he was pushed off his moped by two people riding a motorbike.
"An altercation between the victim and one of the suspects ensued before the suspect attempted to steal the scooter.
"Members of the public intervened and the two suspects rode off from the scene. They did not manage to steal the scooter."
No arrests have been made.