Watch: Moment Moped Gang Attacks George Osborne In Broad Daylight
11 October 2017, 17:20 | Updated: 11 October 2017, 18:27
LBC has obtained footage of the moment George Osborne was almost mugged by a gang of armed robbers on mopeds.
The former chancellor was among the victims of a notorious gang whom stole more than 100 mobile phones across London.
On Wednesday they were sentenced to a total of almost 19 years in prison.
The gang operated in the London boroughs of Camden, Westminster, Islington, and Kensington and Chelsea over five days.
It was made up of three teenagers and a fourth unknown robber, who was armed with a hammer, on mopeds, Southwark Crown Court was told.
Mr Osborne was one of the targets, when an attempt was made to snatch his mobile phone outside the BBC.
The former cabinet minister said the incident earlier this year had left him "shocked and stunned".
In a victim statement read out in court, he said: "After the incident three or four members of the public approached me and asked if I was alright.
"I was physically unharmed but felt shocked and stunned. The incident happened so quickly that I barely registered what had happened until afterwards.
"The scooter was so close that it almost brushed past me. Had it hit me, I have no doubt I would have been seriously injured."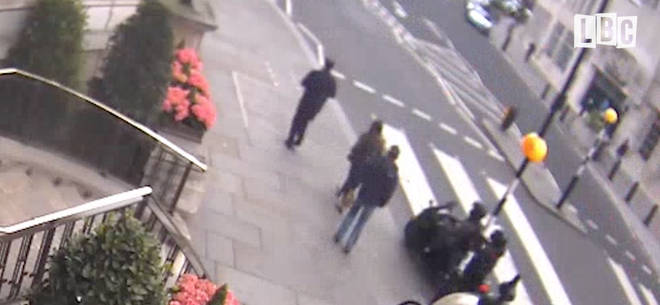 Claude Parkinson, 18, of Islington, north London, and two others aged 16 and 15 who cannot be named because of their age, chatted and joked with each other in the dock as they were sentenced.
All three had previously pleaded guilty to conspiracy to commit robbery.
Another man, Shamsul Chowdhury, 40, of Tower Hamlets, east London, was sentenced to four years and 10 months after pleading guilty to handling stolen goods.
Parkinson was sentenced to five years and three months while the teenagers were each sentenced to four years and two months.